Sarens dismantles oil rig at Rumaila oil field in Iraq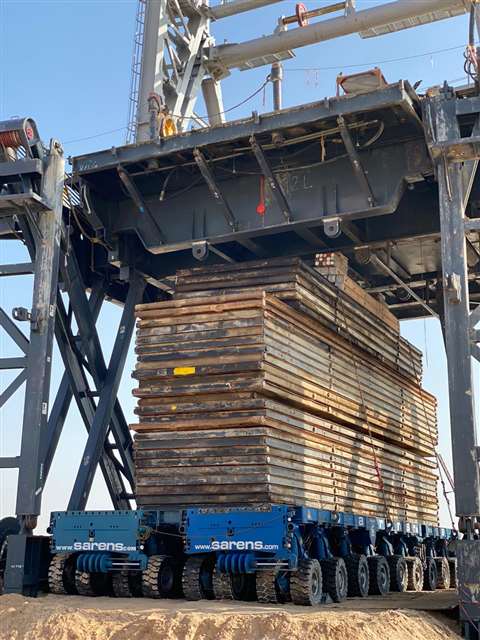 Sarens supplied crew and equipment to help the Iraqi Drilling Co. (IDC) and British Petroleum dismantle a damaged rig at the Rumaila Oil Field in Basra, Iraq. The rig, which stood at a height of 62 metres, had to be stabilised before it could safely be lifted and dismantled.
To execute this delicate operation, Sarens deployed a combination of cranes, self propelled modular transporter (SPMT), and trailers, including the following:
LR 1600-2 lattice boom crawler crane
LTM 1400/7.1 wheeled mobile telesopic crane
LTM 1060/2 wheeled mobile telesopic crane
24 axle lines SPMT
Lodico trailer
Gooseneck trailer.
It took three days to mobilise the equipment from the Sarens yard and deliver it to the Rumaila Oil Field. The equipment travelled via three lowbed and eleven flatbed trailers. It required three more days for assembly. The main challenge was rigging the top section of the crane at a 62 metre height using a man basket. With the equipment in place, the crew then began the operation, which lasted from 15 December 2019 through 10 January 2020.
Damage to rig IDC 59 meant the structure had an offset angle that made the entire structure unsafe. The crew first had to stabilise it using SPMT, ensuring the whole structure was supported as they carried out the lifting operation, before dismantling it in a controlled manner, section by section.
The operation depended on a 600 tonne capacity lattice boom crawler crane in SL configuration and 84 metre main boom, a 400 tonne crane with main boom and 17 metre extension, a 60 tonne crane with main boom, and 24-axle lines of SPMT. The SPMT was used to support the damaged rig, as was the crawler crane, as it lifted the 28 tonne section at the top of the 62-metre tall rig. The 17-member crew worked together to lift from one position and then slew with the load.
With the oil rig safely dismantled, the operation was complete. The client was more than satisfied with the excellence demonstrated by the Sarens crew, as well as their unwavering commitment to the highest safety standards. Sarens congratulates everyone involved in this important operation.