Sarens lifts Boeing for Comair
By Laura Hatton09 February 2015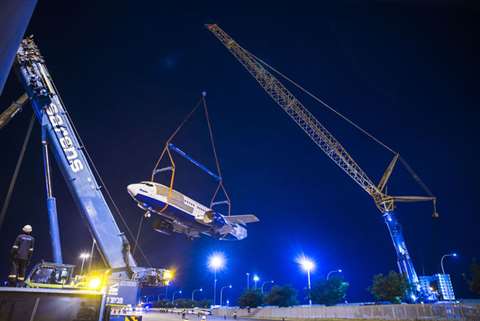 Sarens South Africa lifted a Boeing 737-300 passenger aircraft for South African aviation company Comair.
The aircraft was lifted from the OR Tambo International Airport, across the R21 highway in Kempton Park, to the Comair training centre, where the Boeing 737-300 will be used as a real-life evacuation trainer.
The plane is 33.35 metres long, 18 m wide and 5 m high and a dead weight of 25 tonnes. Its engines had been removed and portions of the wings and tail had been clipped. To lift the aircraft to its new location, Sarens used a Liebherr LTM 1400, a Terex AC 500 and a Terex AC 200 wheeled mobile telescopic all terrain cranes.The lift was carried out overnight to allow several main roads to be closed.
Marius Cilliers, Sarens South Africa country manager, said, "The stakes were high. Our specialized engineering and rigging teams defined the most time- and cost- effective solution, making sure the road closures were kept to a minimum and all safety and quality standards were met. Successfully lifting the Boeing and safely relocating it to its new home was the result of months of planning and collaboration with many stakeholders involved."
Glen Warden, Comair commercial operations manager, said, "This operation is the first ever of its sort in South Africa, probably even in Africa. The project co-ordination between the various parties has been paramount. Especially the professionalism and operational excellence shown by the Sarens team is something to behold. Whenever you see a large Sarens crane at any site around the world, people should know how much of a specialist job this is."
The new training centre will be built around the aircraft.