Sarens moves 12,200 tonne module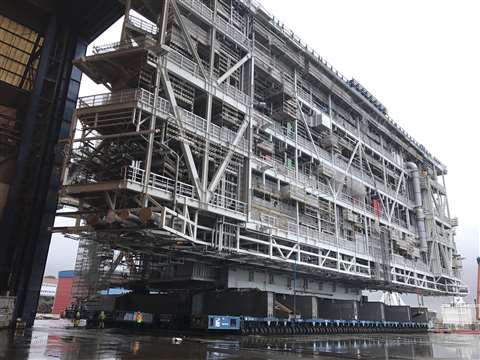 While module moves these days are increasingly heavy, a 12,000 tonne project is still a spectacular achievement. The latest by Sarens was the load-out, weighing, and jacking of a 12,200 tonne oil platform module in Stord, Norway.
A total of 432 axle lines of Kamag K24 self propelled modular transporter (SPMT) was used, driven by 22 power pack units, for the load out. The module is 110 x 61 x 26 metres and was moved about 200 metres from the fabrication hall to the barge.
To find its exact weight the module was weighed using thirty-two load cells, each with a capacity of 500 tonnes. The module was then jacked up about 13 metres above the barge deck to install the grillage. Four towers of the CS 5000 jacking system were used. It was a complex job and took 20 days to complete the rigging.
Commenting on the project Tor Arne Naess, project manager, said, "Despite heavy rain and high winds, the operation was perfectly executed according to the project plan."
In early 2019 the module will be sailed out to the Johan Sverdrup oil field in the North Sea off the Norwegian coast. More than 200 workers will be housed there. Sarens is working for Kvaerner AS, which is building the accomodation platform in partnership with KBR.