Sarens places biggest order with Tii Group
By Alex Dahm18 November 2016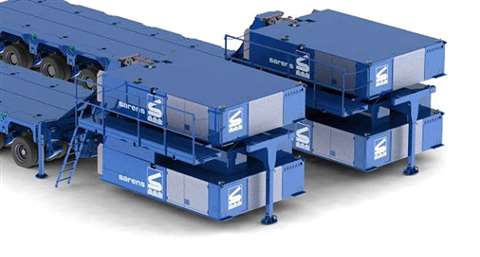 Leading international heavy transport and lifting specialist Sarens has ordered self-propelled modular vehicles for a total of €63 million (US$ 67 million) from Kamag (Tii Group). It is the Tii Group's biggest order to date. The equipment will be used to fulfil Sarens' contract for the transport and installation of pre-assembled units and racks plus related oversized equipment for the US$ 36.8 billion Future Growth and Wellhead Pressure Management Project (FGP-WPMP) for Kazakhstan-based oil company Tengizchevroil (TCO).
The order includes Kamag K25 self propelled modular trailers with 1,060 hp power output, plus Kamag K24 modular trailers. The additions will increase Sarens' self propelled fleet to more than 2,000 axle lines from Tii Group.
Commenting on the deal, Carl Sarens told IC, "Sarens invested in the state of the art equipment which was developed together with Kamag/TII to ensure project requirements are met with regard to safety, operation and schedule. Both the K25 and K24 trailers are equipped with low temperature package to be able to operate in the winter conditions of the project environment. The most specific feature of the K25 fleet investment is the double stacked powerpack which ensures, in addition to 100 % redundancy, the required driving power for the 46 axle line combination."
At the Kazakhstan construction site, Sarens has been contracted to off-load, store, stack, and transport the modules to their respective installation points. The scale of the project is huge which is reflected in the wide range of technical challenges. Wim Sarens, Sarens CEO, said, "We have invested €34 million in advance in the purchase of new equipment just to submit a tender for the project. We were sure that our project expertise and commitment would get us the job – and were proven right. The technical requirements for the equipment are extremely ambitious which is why we saw the Tii Group as only possible strong partner due to its history of developing and manufacturing self-propelled vehicles."