Sarens Transports a 375T Barge in Uralsk, Kazakhstan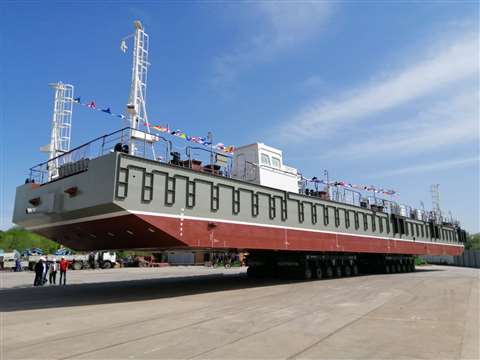 Sarens was commissioned by Zenit to jack-up, transport, and jack-down a 375T barge originally used by the Kazakhstan army to help in border control. The barge was 50m long, 10m wide, and 6,5m high.
Owing to the dimensions of the barge our team worked closely with the client in the planning phase to ascertain the best positions for the jacks and trailers so the barge can be moved without causing damage to the structure. The project was carried out during lockdown in Kazakhstan due to the Covid 19 pandemic so special permissions were required for Sarens equipment and crew to be allowed to leave the base in Atyrau and travel 500km to the job site in Uralsk.
The team had decided to deploy 4XPJ126 climbing jacks along with 24 axles of K24 SPMT's and 2 PPU's. The SPMT's were configured into 2x 4 file 6 axles for transportation. According to Project Manager, Simon Murray, "The equipment we decided to deploy after discussions with the client handled the job perfectly and impressed the client."
All the equipment was mobilised from the base branch in Atyrau to the site in Uralsk, around 500Km away. Once on site, the equipment was offloaded, the trailers were configured, and jacks positioned to commence the operation the following day.
The barge was raised by the jacks and SPMTs were positioned underneath. Our crew of 8 transported the barge facing a number of challenges on the road. The load had to travel 3km along the public highway:
Some of the street lights and signs had to be removed.
A few power lines had to be switched off and either raised or taken down completely
Traffic had to be stopped and diverted.
In the offload position 2 lanes of the highway were blocked.
Once the barge reached its destination, it was offloaded from the SPMTs and then jacked down onto the client's trolleys which then transferred the barge to the slip way in preparation of its launch into the Ural River.