Sarens transports splitter
By Christian Shelton15 January 2020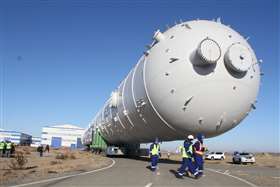 Kazakhstan Petrochemical Industries (KPI) commissioned Belgium-headquartered international heavy lift and transportation specialist Sarens to transport a large propylene splitter, weighing 1,050 tonnes, a distance of 47 km in Kazakhstan for use at a new gas-chemical complex.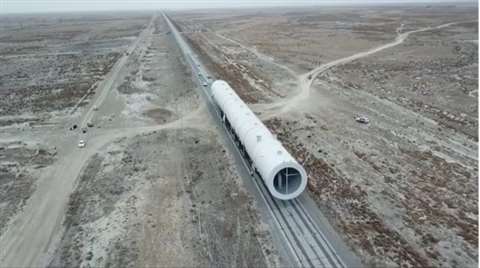 The splitter was transported 47 km
The splitter, which measured 105.3 metres long, 9.78 metres wide and 11 metres high, was transported using 64 axle lines of SPMT which, Sarens said, moved at a speed of 3.5 km/h. Various obstacles along the route, including power lines, traffic lights, lamp posts, road signs, rail lines, gantry gates and traffic, were navigated safely. In addition, highways along the route had to be partially closed and a diversion around a highway bridge that could not suppot the splitter's weight had to be made.
A video of the job can be seen here: