Saudi Arabian linear city The Line awards delivery partner role
By Neil Gerrard16 February 2023
Canadian consultancy SNC-Lavalin has secured a delivery partner role on Saudi Arabia's linear city, The Line.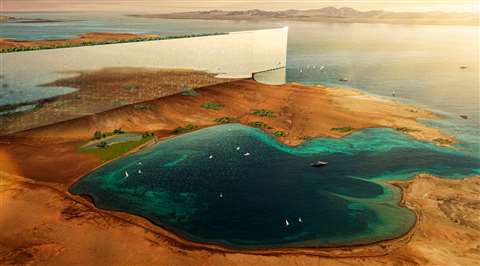 The Line, the first phase of which is set to cost US$319 billion, will be 170km-long, 500m tall, and run across the north west of Saudi Arabia. But the wall-like city will only be 200m-wide.
It will have no roads or cars and will cover a land area of just 34 sq km. That is despite the fact that delivery partner NEOM envisages it accommodating nine million people once it is complete. Instead, a high-speed rail line called the Spine will connect the city, which promises to run on 100% renewable energy.
SNC-Lavalin has won a five-year contract under a framework agreement for consultancy services on The Line. It joins US-based consultancy Parsons, which announced its involvement earlier this month.
Both companies will provide project and construction management consultancy services for the design, procurement, construction, testing and commissioning of the project. They will also manage the critical interfaces that the linear city shares with adjacent NEOM projects.
Ian L. Edwards, president and chief executive officer, SNC-Lavalin, said, "The Line is a central component of NEOM, which itself is one of the largest projects under Saudi Vision 2030. The linear, cognitive city will play a significant role in helping NEOM accelerate the Kingdom's economic diversification agenda by redefining the urban living experience, boosting tourism, and creating job opportunities for the people of Saudi Arabia."