Scheurer storm cover
By Euan Youdale18 May 2015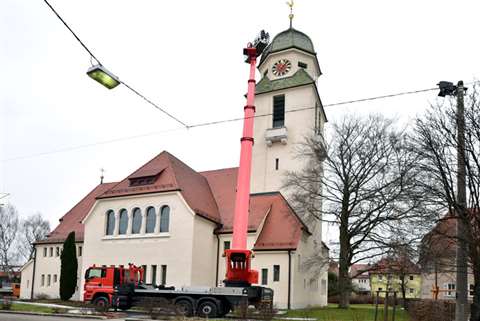 The storm damaged bell tower of Protestant Christ Church in Eislingen, Germany was left with a leaking roof that needed to be repaired quickly.
To speed up the work, a 54 m working height truck mount was used instead of scaffolding. The machine is owned by rental company Ferdinand Scheurer, based in Göppingen, a member of the System Lift association of companies.
Due to the tight entrance to Christ Church the use of the 26 tonne LK 540 had to be carefully planned. Approval by the city of Eislingen was required and the meadow to the front of the building was covered with boards where the truck mount was positioned.
The boom's basket was rotated across the 3.7 square metre damaged belfry area. The work to fix the damage took two days to complete.