Schick buys Liebherr LTM 1250-5.1
A new flagship Liebherr crane for Schick
German construction group Anton Schick has bought a Liebherr LTM 1250-5.1 mobile crane. The company, based in Bad Kissingen, Germany, will use the 250 tonne crane for major prefabricated concrete construction projects.
Crane handover in Ehingen with Florian Maier (Liebherr-Werk Ehingen) and Anton Schick (Anton Schick)
According to Liebherr, the LTM 1250-5.1 has already successfully completed its first jobs – including relocating supports and wall components for the construction of a new warehouse for an adhesives manufacturer in Bad Kissingen.
Schick ordered the LTM 1250-5.1 with a second winch. This enables concrete facades to be turned into the correct position in the air.
The LTM 1250-5.1 will replace an LTM 1220-5.2 and, according to Liebherr, is the company's new flagship crane. Anton Schick's fleet also includes an LTM 1160-5.2 and an LTM 1060-3.1, as well as over 40 Liebherr tower cranes. Schick has a total workforce of around 350.
Shick's managing director, Anton Schick, commented, "In addition to technological aspects, the fact that Liebherr mobile cranes retain their value is another important factor for us."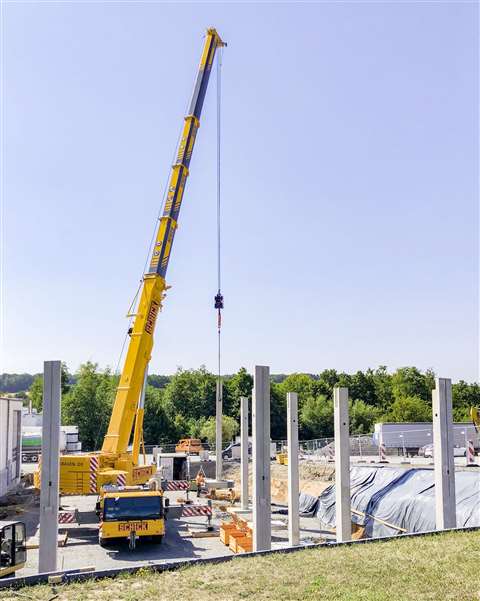 Schick's new LTM 1250-5.1 building a warehouse in Bad Kissingen