Schmidbauer braves the cold
By Alex Dahm20 August 2019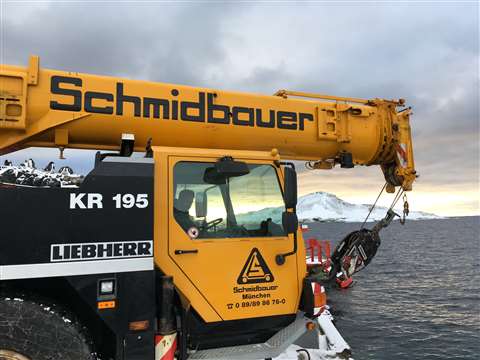 For more than eight months a wheeled mobile hydraulic crane supplied by German crane rental and specialized transport company Schmidbauer has been at work in Antarctica.
The 40 tonne capacity Liebherr LTM 1040 has been lifting loads as part of a project to upgrade the German Antarctic Receiving Station (GARS) O'Higgins. Getting the 24 tonne three axle crane to the remote GARS site was a major logistical achievement in its own right for Schmidbauer.
Since December 2018 the crane has been working on site and has now completed its first season. Everything ran smoothly, Schmidbauer said. Challenges included 200 mph (324 km/h) winds, damp and salty air and temperatures as low as minus 15 degrees centigrade. The crane operated without technical or electronic issues, the crane supplier said.
The team included two crane operators from neighbouring Chile and a subcontractor, all of whom received training at Schmidbauer's head office in Gräfelfing near Munich, 14,400 km away from the research station site.
It was a race against time, Schmidbauer said, when the contract to transport a crane to the polar station was awarded three days before Christmas 2017. Shipping was in early January 2018 for transportation in mid-March to its final destination. Cargo ships and a Chilean military ship from Punta Arenas were used.
Explaining the timing, Robert Jäger, Schmidbauer manager, said, "A whole year would have been lost if the crane had not been ready for shipment on time and missed the start of the last stage of the journey. The options for delivering to Antarctica are extremely limited."
During shipping the maximum component weight was 8 tonnes so the crane had to be dismantled into pieces. Transport for the final leg to the landing site 2 km from the research station was on pontoons. Ships are not permitted closer to protect local penguins. Size meant some pieces had to travel on deck, protected from the elements using special tarpaulins.
Having arrived in good time the crane was stored under cover for a few months. It was used occasionally in that time. Depending on the weather during the Antarctic summer the crane will be used for four to six months to move containers and parts of the station before being made winterproof again. This will be repeated for another couple of years from November 2019.
GARS O'Higgins is operated by the German Aerospace Center (DLR) in co-operation with the Federal Agency for Cartography and Geodesy. It started with an observation station almost 30 years ago in 1991.