School build for Schmidbauer
By Laura Hatton17 November 2014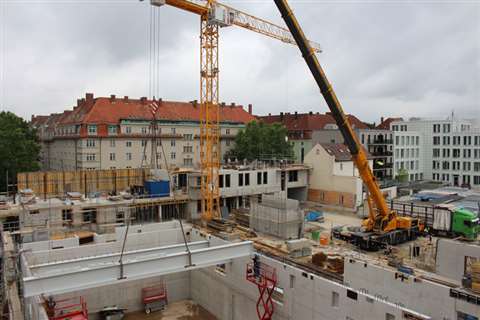 Crane service provider Schmidbauer used a 220 tonne capacity Tadano ATF 220G-5 all terrain crane to help construct a new school and childcare centre in Sendling, Munich, Germany.
The project involves an extension to the current primary school, including a new childcare building. Several nurseries and day care facilities will be included at the centre.
The ATF 220G-5 has a boom length of 68 m and can be fitted with a fully hydraulic boom extension (HTLJ). Tasks for the all terrain included installing six 15 metre long girders weighing 7.5 tonnes each. The girders form part of the school canteen and were lifted at a radius of 45 m.
The crane is working in a restricted working area. Werner Schmidbauer, Schmidbauer managing director, said, "The power of Tadano really comes into play especially with jobs like this one, where high sometimes bulky and very heavy loads have to be loaded and transported in a very tight space. The cranes in this five-axle class usually have a maximum load capacity of 200 tonnes. Tadano has packed another twenty tonnes on top of this with the ATF 220G-5. And these twenty tonnes of additional lifting capacity benefit us and, in fact, without the crane losing any of its manoeuvrability even under a full load."