Schrader celebrates 30 years at Zeppelin
By Thomas Allen01 September 2020
Today, Peter Schrader, Managing Director of Zeppelin Rental, celebrates his 30th anniversary with German Caterpillar dealer Zeppelin Group.
He has been with the group since it first began to rent equipment, and it is under his leadership that the rental business has grown to be a major player in the European rental market.
Schrader joined Zeppelin Group in 1990 as a salesman; "At that time, rental was mainly used to prepare the sale of Caterpillar construction machinery. It wasn't until I became Branch Manager three years later that we started institutionalising rental."
The first of the company's rental depots were opened at this time.
The acquisition of MVS (Miete Vertrieb Service) AG in 2003 marked a milestone in the development of the rental business. This happened just one month after Schrader had taken responsibility for the group's rental operations as Head of Rental Services.
"I had just spent two years as Director for Eastern Europe and Central Asia at Zeppelin Russia and had been in my new position for a month," he recalls, "when the takeover of the German rental activities of MVS AG was underway."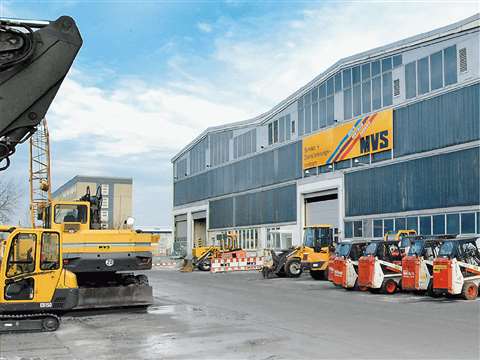 With the acquisition of MVS AG and the founding of MVS Zeppelin GmbH & Co KG on 1 January 2004, Zeppelin's rental business became a market leader with 120 depots and a fleet of more than 33,000 units. The fleet comprising work platforms, construction equipment, generators, containers and vehicles, supplemented by services such as site security.
At the time, most construction companies in Germany rented equipment to cover peaks in demand during projects, according to Zeppelin, so customers were looking for availabiloity, flexibility and speed.
Schrader says, "Our vision for the rental business also went beyond the mere provision of individual machines and equipment. Our goal was to be an indispensable service provider for our customers, setting standards in terms of efficiency, processes and customer service."
As a result, the company expanded its range of services by acquiring companies involved in construction site and traffic control and modular space
A special focus was also put on internal processes. MVS Zeppelin, as it was called, introduced digital scheduling so that employees could easily find the nearest available rental equipment for customers.
Zeppelin also led the way with sustainabiltiy by introducing its 'ecoRent' brand.
"We were the first German rental company to introduce labelling for energy-efficient, economical and forward-looking rental products back in 2011," says Schrader. "Today, the topics of sustainability, environmental protection and alternative drives are essential – nine years ago we were pioneers in the market."
Then, in 2012, MVS Zeppelin was renamed Zeppelin Rental.
Since then, the German rental market has continued to develop, with customers increasingly integrating rental into their cost plans.
"The rental volume in Germany has risen steadily over the last ten years and was an estimated €4.9 billion in 2019," says Schrader. "Despite the Corona pandemic, rental sales in 2020 are expected to be comparable to last year's."
In 2016, Zeppelin Rental transitioned from a pure rental company to an integrated solutions provider with the acquisition of Streif Construction Logistics.
This meant that, in addition to renting equipment, Zeppelin Rental also offered services for temporary infrastructure, such as site and traffic control, modular space and power supply, as well as construction logistics.
Looking to the future, Zeppelin Rental says digitalisation is high on its agenda.
For example, in addition to the expansion of online rental and online contract management, the company is working to strengthen the connection between customers' fleets and Zeppelin's rental fleet; "By connecting their ERP system, buyers and project and construction managers gain direct insight into the availability of our machines and equipment," says Schrader.
He adds, "In the US, for example, the topic of Total Fleet Control goes one step further. Projects and construction sites are networked in such a way that the utilisation of the individual machines is visible to all parties involved. This is precisely what the digitalisation of the construction machinery industry is all about: optimum utilisation of the machines and maximum customer benefit."
While Schrader expresses pride about the growth of Zeppelin Rental over the past 30 years, he says, "My main focus is on the future. So I look forward to the many exciting challenges and projects that await us in the future."