Schuch buys four new Liebherrs
By Katherine Weir01 April 2016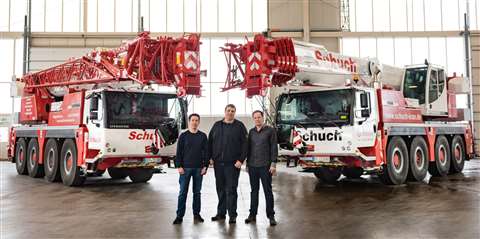 German crane contractor Schuch is modernising its fleet and replacing three old mobile cranes with four new Liebherr mobiles - an LTC 1050-3.1, an LTM 1050-3.1 and two LTM 1070-4.2s.
Liebherr's mobile crane technology of VarioBase and ECOmode were important criteria for the purchases along with green credentials of reduced exhaust emissions from the latest generation of engines, the company said.
Family-run Krandienst Schuch is now managed by the third generation. The two brothers, Tim and Christopher Schuch visited the Liebherr production plant in Ehingen with their father, Stefan, to take delivery of the new cranes. Christopher Schuch explains, "Our aim is to be able to provide our customers with a modern fleet. That is why we invested in the new cranes. We are delighted with Liebherr's new technology. VarioBase enables us to work more effectively, for example, saving on ballast transport. That enables us to give more consideration to our customers' wishes."
The LTC 1050-3.1 enables Schuch to take on more crane work inside buildings. Tim Schuch explains, "Although we have an alternative machine, the LTC 1050-3.1 is the most powerful compact crane in the 3-axle class. It has convinced us in every respect and it can telescope its boom with a fairly large load. And when space gets very tight, you can even remove the front storage box."
Schuch has ordered the lift cabin and VarioBase for the LTC 1050-3.1.
Each of the brothers is now responsible for his own company within the Schuch Group, which now has 10 sites between Saarbrücken in the west, Fulda in the north and Karlsruhe in the south. Christopher is in charge of Krandienst Schuch GmbH, which operates in the northern territory including the Rhine-Main conurbation whilst Tim runs Kran und Transport Schuch GmbH from Wörth in the southern territory, which extends down to the region around Stuttgart.
Overall, Schuch operates around 60 mobile cranes with load capacities between 30 and 1,000 tonnes.