SE Levage chooses 1,200 tonner
By Alex Dahm19 September 2016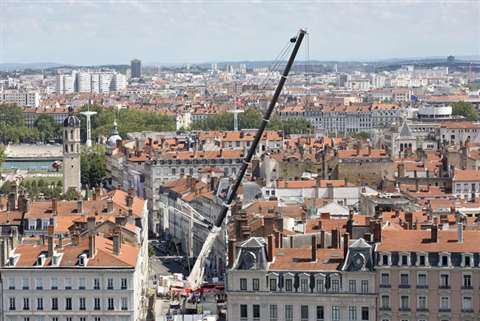 French crane company SE Levage chose a 1,200 tonne Liebherr wheeled mobile telescopic crane for a tricky job in the centre of Lyon.
A pair of excavators had to be placed on site at long radius for a demolition job in the ancient city. SE Levage bought the LTM 11200-9.1 second-hand, refurbished by Liebherr. Christophe Thenery, the crane's driver, said, "The crane was like new when we took delivery at the Liebherr plant in Ehingen." Since its arrival in April 2016 it has been the largest wheeled mobile crane in the country, Liebherr said.
For the excavator project the 9-axle machine was assembled with 160 tonnes of ballast to lift the loads up to 58 tonnes and the boom was extended to 70 metres. All the outriggers were fully extended to give a support base of 13 x 13 m. Also fitted was the Y-type guying system.
SE Levage employs 85 people, has seven depots in the Rhone Alpes region of France and one in Geneva, Switzerland.