Seddons brings Green Rhino to UK
By Sarah Ann McCay18 June 2014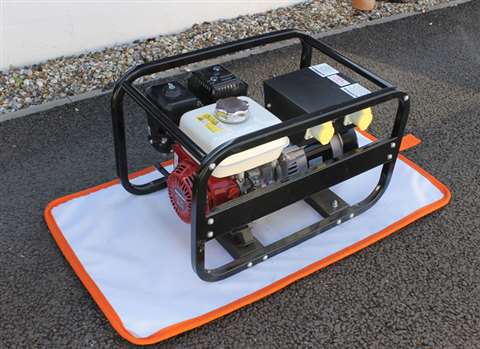 UK rental company Seddons (Plant & Engineers) has partnered with Capture Green Environmental Solutions to exclusively bring Green Rhino spill containment products to the UK market.
Green Rhino products use polymers to transform hydrocarbons such as oil, diesel and petrol into a rubber-like solid within minutes. This is said to prevent the release of contaminated water or hazardous fluids into the workplace or local environment.
Now available in the UK is the Green Rhino EnviroPad for spill containment.
Designed to replace traditional drip trays and absorbent products, the EnviroPad uses polymer technology to retain spills and drips when using or storing plant, tools or fuel containers.
It locks in hydrocarbons, solidifying and immobilising hazardous fluids into a dry, solid mass. Once completely solidified, the EnviroPad can be disposed of into standard hazardous waste bins. The EnviroPad is available in three sizes and large items of plant can be wheeled or placed onto it.
Other items in the Green Rhino range are spill kits for 15 litres up to 220 litres, and filtration systems for use in pumping and dewatering.
Neil Beswick, business development director at Seddons (Plant & Engineers), said, "We've introduced the Green Rhino range following 18 months of consultation and testing with Capture Green Environmental Solutions.
"Companies can be fined tens of thousands of pounds for water pollution or other pollution incidents and Green Rhino products provide organisations with a viable means of complying with stringent environmental legislation without running the risk of financial penalties being imposed.
"The EnviroPad in particular has created a huge amount of interest amongst our customer base. We've already had several orders placed from construction contractors and plant and tool hire companies looking to introduce them into their fleet of equipment," he added.