Self erector increases efficiency
By Christian Shelton17 November 2020
Minnesota, USA-based residential building contractor Link Construction used a Potain Igo MA 21 self-erecting tower crane, made by US manufacturer Manitowoc, positioned in a gap between two houses being built in order to increase construction efficiency.
According to Manitowoc, the crane's strategic location and small footprint of 13.8 sq ft (4.2 m) combined with its 85.3 ft (26 m) of jib radius allowed Link Construction to reach the entire jobsite using just one piece of equipment, increasing efficiency on both builds.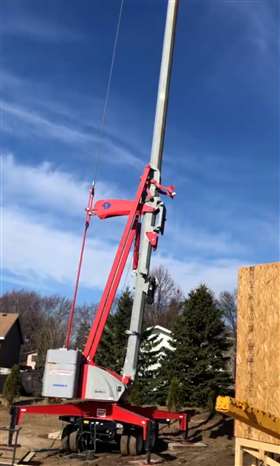 The Igo MA 21 self-erecting crane is operated via radio remote control which, Manitowoc says, allows operators to move around the jobsite and work side-by-side with subcontractors on different tasks, increasing communication.
Manitowoc adds that, using its electric motor, the Igo MA 21 is quiet and emissions-free, making it well-suited for use in residential areas.
"On these two homes the Igo MA 21 self-erecting crane helped put us ahead of schedule by two-and-a-half to three weeks," said Patrick Link, owner of Link Construction. "It saves us a lot of time because it's just so quick and easy to operate. We used it for setting the floors, the walls and the roof trusses, among other tasks."
"Using the crane was very handy. It worked phenomenally after I quickly got a hold of it," added Joseph Link, crane operator at Link Construction. "With the remote, you don't have to be sitting in the crane. It just gives you a lot better sense of what you are doing on the job because you can move around and see things for yourself."
Link Construction rented the crane from RMS Rentals, who guided the contractor on assembling the crane and provided full support during the homebuilding project. RMS Rentals is the light and general equipment division of Road Machinery & Supplies Co. (RMS).