Self-loading Cometto for Rave
By Alex Dahm23 October 2020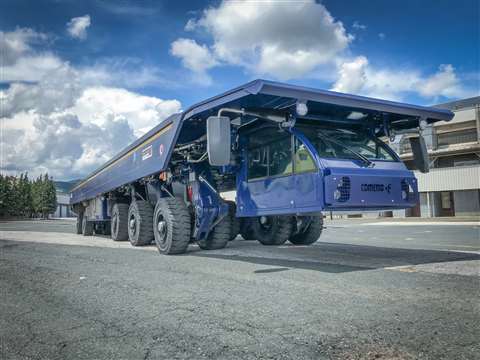 Industrial vehicle leasing specialist Rave Group in France has expanded its fleet with a self-propelled self loading transporter from Cometto.
The five axle ETL 5/4E has a payload capacity of 140 tonnes. Its load platform is 14.1 metres long by 2.99 metres wide. Industrial applications for the new ETL include carrying lond loads such as bar and pipe at factories, stock yards and construction sites.
The ETL 5/4E has electronically controlled steering and its hydraulic suspension is designed to raise and lower the loading platform. Each suspension unit has a pendular axle and a capacity of 34.3 tonnes. The maximum steering angle for this electronic version is 135 degrees and all wheels are steered.
Its low profile cabin is under the deck at the front and includes features such as reversing cameras to make driving easier and safer.
Rave Group, based in Torcy, specializes in the management of transport and logistics services. The deal for the new Cometto was initiated by SNM Heavy Handling, Cometto distributor in France. Via dealerships and teams of travelling technicians, SNM Heavy Handling distributes heavy, port and industrial handling equipment. Its offer includes leasing, sales, maintenance and spare parts.