Selwood adds Mercedes trucks with Palfinger cranes
By Alex Dahm05 January 2018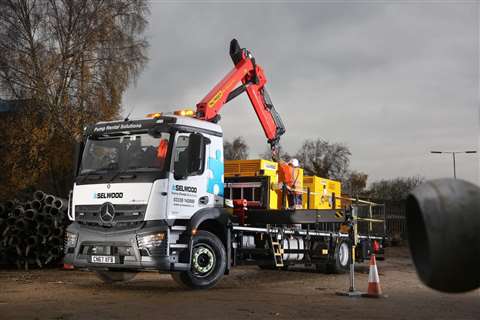 UK pump rental company Selwood has added five new trucks, each with Palfinger hydraulic loader cranes, to its all-Mercedes fleet.
Selwood has 54 trucks, 33 of which have Palfinger cranes. The majority are 26 tonners but there are also ten 18-tonners. The trucks are used to deliver and collect pumps and ancillary equipment for rental customers.
Two of the new trucks are 6 x 2 Mercedes Antos 2530s powered by 220 kW engines. The other three are 4 x 2 Antos 1824s with 175 kW versions of the same 7.7 litre straight six diesel. All have PowerShift automated transmission.
Palfinger distributor TH White of Wiltshire supplied and installed the radio remote-controlled cranes. The PK 180002-EH is rated at 59.8 tonne-metres with a 6.1 tonne capacity and it is from the Austrian manufacturer's medium capacity range.
Paul Green, Selwood transport manager, said, "We've been running Mercedes-Benz trucks for more than 17 years. Not only have they proved to be supremely reliable and cost-effective to operate, but we also benefit from the outstanding support of the manufacturer's franchised network.
"The overnight servicing which Mercedes-Benz Dealers provide is essential in enabling us to maximise vehicle uptime and thereby ensure that our customers continue to benefit from a seamless service."