Sennebogen 840 E handles scrap at Swiss steelworks
The Swiss company, Stahl Gerlafingen, processes old scrap, melts it down and makes a significant contribution to CO2 reduction in steel production.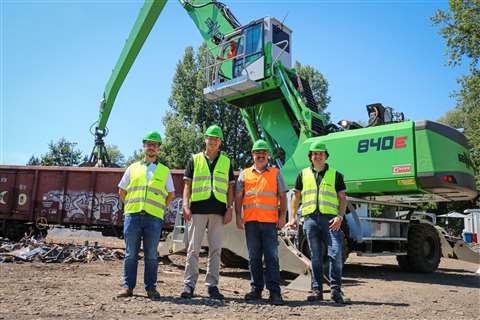 The latest addition at the steelworks is a mobile Sennebogen 840 E series material handler with 18 m (59 ft) equipment, which takes care of scrap logistics when filling wagons.
"Urban mining" is resource- and environmentally friendly way of returning steel scrap from the urban environment to the material cycle through targeted recycling and generating new steel products from it.
Stahl Gerlafingen has also adopted this principle. By processing and smelting old scrap, the 520 employees on site produce 668,000 t of reinforcement and sectional steel for the construction industry every year.
The Sennebogen 840 E is part of the closed materials cycle, from the installation of steel products to recycling, allowing drivers flexibly switch between a Sennebogen 800 l orange peel grab and a magnet to fill the rail wagons or sort the scrap.