Sennebogen to extend Straubing plant
By Laura Hatton30 September 2015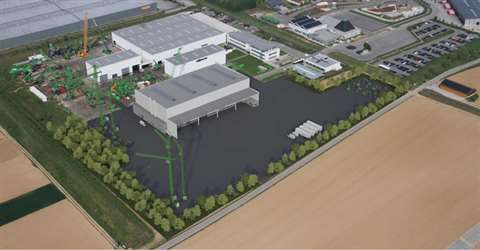 German manufacturer Sennebogen will extend its production and warehouse areas at the port of Straubing in Germany.
Plans are to extend the area by 35,000 square metres. In addition, a new 6,700 square metre production shop is also being built for assembly, painting, finishing work and quality control.
The expansion plans follow the opening of the Sennebogen Academy and the Erich Sennebogen Museum in 2014. Plant II at Straubing is primarily used for manufacturing and testing machines with up to 300 tonne operating weight.
The expansion will be carried out in two phases, starting in 2015. Phase one has started. It includes construction of a paved surface for telescopic cranes, rope excavators and a new noise metering area. A new shipping area for machines and components is also being built between the existing factory premises at Hunderdorfer Strasse. The new site will have a 180 tonne Sennebogen 5500 crawler gantry crane from the Star Lifter series to hoist and handle heavy components at the site.
During the second phase, a new assembly and paint shop for large machines will be built. The new hall will have a surface area of approximately 6,700 square metres and will include a large roofed outdoor area for assembling and painting large components. Another area of the building will be for customising machines. Work should be completed by the end of 2016.
Erich Sennebogen, Sennebogen managing director, said, "We're investing into the future today not only to be able to provide the quality products 'Made in Straubing' in the years to come, but also to continue to increase our competitiveness. As a family-owned company, we feel committed to long-term planning and to adjusting our production facilities to the market requirements of the future. This plant extension ensures optimised logistics, enhanced reliability and an even better working environment for our team."
Walter Sennebogen said, "Long-term investments like these are therefore necessary to meet future market requirements in an optimal manner. Sennebogen products 'Made in Straubing' stand for quality and have proved their worth around the world."