Set and forget portable power
By Sarah Ann McCay02 September 2014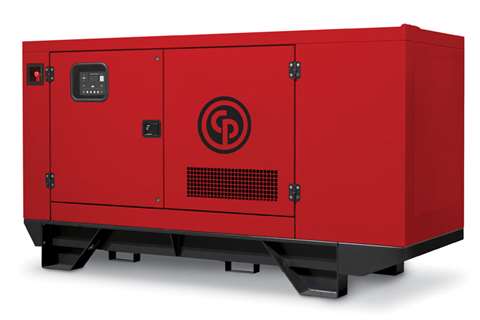 Construction sites often rely on portable power options to keep things going. From high capacity generators that can produce multiple power to run site offices and large equipment, to portable air compressors for hand tools and other applications.
As technology advances, portable power products are becoming smaller in size but bigger in power, while emission regulations mean units are becoming cleaner too.
"Our innovations will continue to focus on optimal sizing, meaning a smaller footprint and smaller units for the same job as well as a strong focus on fuel consumption and alternative fuel sources. We will also look more at specifics, such as voltage variants and cold weather requirements," explained Julio Tome, product marketing manager for on-site generators at Atlas Copco.
Lean & green
Atlas Copco Portable Energy introduced its latest range of Tier 4 Final portable generators for heavy-duty applications at March's ConExpo exhibition in Las Vegas, US. The new QAS 25 and QAS 50 60Hz generators use an Isuzu 4LE engine fitted with just a diesel oxidation catalyst (DOC) for aftertreatment to achieve Tier 4 Final emission levels.
The new QAS 25 and QAS 50 replace the existing QAS 25 and QAS 45 models to become the first Tier 4 Final generators from Atlas Copco since the emission standard took effect on January 1, 2013. By the end of the year, all other Atlas Copco portable generators will be Tier 4 Final-compliant.
Both the QAS 25 and QAS 50 have a silent enclosure design to ensure low noise levels for use in residential or other noise-sensitive locations. DeepSea controls and a Leroy Somer AREP alternator ensure easy operation of the generator in a range of heavy-duty applications.
Hot stuff
Cummins Power Generation launched three new products earlier this year, the C170 D5, C450 D5e, and C1000 D2R PowerBox.
Launched in Dubai, UAE, the C170 D5 is built to perform at temperatures above 50°C. Designed for efficient and silent operation, the C170 D5 has a noise level of just with 68 dB(A) at 7 m and up to 14 hours of fuel autonomy.
A new QSZ13 electronic engine powers the C450 D5e, providing increased power density and improved performance. The product provides dual frequency capability and complies with EU Series IIIA and EPA Tier 3 emissions levels.
The C1000 D2R is the newest addition to Cummins' growing range of rental products. This generator is powered by the new dual frequency KTA38 G14 for IPP and base-load applications. It is designed to operate in hot conditions where the temperature may exceed 50°C.
Propane propelled
US manufacturer Kohler has also introduced a new range of fuel-efficient, environmentally friendly portable generators, powered by propane. According to Kohler, a propane-powered mobile generator with on-board fuel storage capacity can reduce users' fuel costs by up to -20%.
The new line-up includes four liquid-propane gensets ranging from 30 kVA to 125 kVA, and 11 diesel gensets ranging from 35 kVA to 680 kVA. The mobile diesel generators are Tier 4 Final-compliant and feature the Kohler KDI engine for its 35 to 70 kVA models.
"Propane continues to be more widely recognised as an efficient, low-carbon, alternative fuel for residential and commercial applications, commercial mowing, and fuelling engines," said Tucker Perkins, chief business development officer at the Propane Education & Research Council (PERC).
"Now, with Kohler's new product line, construction professionals will have the option to rent or purchase durable, propane-fuelled portable generators that offer reliable performance while producing fewer emissions," he added.
Driving power
The new range of SGX commercial generators from Subaru Industrial Power Products has been designed for numerous users, from homeowners to contractors. Available in three output sizes, each unit comes with a Subaru EX overhead cam (OHC) engine.
Delivering a maximum output of 3.5 kW, the SGX3500 uses Subaru's EX21 7 hp (5.2 kW) engine. The unit offers a fuel tank capacity of 4 gallons (15 litres) and provides a continuous run time of 8 hours at the rated load.
The SGX5000 utilises the 9.5 hp (7.1 kW) EX30 engine and offers a maximum output of 4.9 kW. Fuel tank capacity is 7 gallons (26.5 litres) and the unit's continuous run time is 9.4 hours at the rated load.
Featuring a 14 hp (10.4 kW) EX40 engine, the SGX7500E provides a maximum output of 7.5 kW. It offers a continuous run time of 7 hours at the rated load and a fuel tank capacity of 8 gallons (30 litres). Additionally, the SGX7500E includes an electric starting system with recoil backup.
Standard on all models is an automatic voltage regulator (AVR) system, which provides a precise voltage control output, making the system appropriate for sensitive electronic equipment like computers. Other standard features include low-tone muffler, low oil level sensor with automatic shut-off and a two-wheel kit for enhanced portability.
Global traveller
Spanish manufacturer Himoinsa introduced its new HHW series of generator sets to the market earlier this year. The new HHW series includes seven soundproofed, open generator models, with power output ranging between 20 and 100 kVA at 50Hz and between 30 and 120 kVa at 60Hz.
The new generator models, powered by the Himoinsa 4HD engine, feature low noise emissions, optimal fuel economy and excellent throughput, productivity and reliability levels, according to the manufacturer.
Seven engine models have been developed (from 1,500 to 1,800 rpm) with a power output yielding between 20 and 95 kWm. Additionally, the Himoinsa alternator has an automatic voltage regulator (AVR) while its Busbar connection system lets six of the series' units be moved to configure with the varying voltage/frequency ratios required in international markets.
Big demands
For larger power demands, the new 50 Hz and 60 Hz stationary generator range from construction equipment manufacturer Chicago Pneumatic offers a number of user-friendly features that make them easy for contractors to position, operate and maintain.
"Our new CPSG units are built to withstand the toughest worksite conditions, making them ideal for operators seeking a consistent source of primary power while working day in and day out in a wide variety of construction applications. The introduction of our new stationary generators also means we are now able to offer a complete generator offering, encompassing portable, mobile and stationary products," explained Daniel Escuer, power product marketing manager for Chicago Pneumatic.
The new CPSG stationary generators are based on a frame-and-canopy design. Chicago Pneumatic says the units are designed for fast, easy and safe on-site and off-site positioning, with a corrosion-resistant canopy providing long-lasting durability and a rugged base adding impact resistance and extra protection for sensitive areas of the unit.
The new CPSG units also include an advanced control panel that enables users to control and operate it remotely, different levels of noise isolation, a lockable fuel filling cap, a robust terminal board that is suitable for connection with or without clamps, and easy fuel tank cleaning access to prevent damage from contaminants.
Additional options include a high capacity fuel tank, additional fuel filter with water separator, battery isolation switch, battery charger, engine coolant heater, open frame and lifting beam.
Chicago Pneumatic has also added a new CPS 2.0 portable air compressor to its power range.
The new, easy to use compressor is designed for use on even the most demanding construction sites thanks to its high ground clearance, which allows it to be towed over difficult terrain.
Chicago Pneumatic says the new compressor has a simple but effective control panel incorporating a start switch, hours-run counter, pressure gauge and control light, and offers hassle-free starting. There is no load switch and there are no valves to be adjusted before starting – all that's needed is to turn the start switch.
Other key features include a spillage-free frame that ensures no oil, coolant or fuel can leak onto the ground and cause contamination; modular construction that allows for easy customisation; and a top cover with a large angle of opening to provide easy access to all major components for maintenance.
The new Chicago Pneumatic CPS 2.0 portable compressor uses a fuel-efficient Kubota engine with a maximum speed of 3,400 rpm. It has a nominal working pressure of 7 bar, and a free-air delivery of 2 m3 per minute.
In Latin America, Doosan has launched its new 185 cfm (5.24 m3/minute) portable air compressors — the new P185 and recently redesigned C185, used to power handheld air tools, chippers and breakers.
Aimed at road building contractors, the compressors are powered by a 65 hp (48 kW) turbocharged Kubota engine and can deliver air at 100 psi (6.9 bar). The units have been designed for different environmental conditions, including working at high altitudes.
German manufacturer Kaeser has launched several new additions to its range of portable compressors this year.
The new, towable compressed air powerhouses, the Mobilair M 114, M 115, M 130 and M 171, cover a pressure range from 7 to 14 bar with free air deliveries from 7.5 to 17 m³.
Kaeser says its new units are suited to many applications, including sandblasting, cable blowing and demolition work.
With a rated motor power of 85 kW, the 10 m³ class M 114 and M 115 models are especially versatile, while the M 171 offers larger volumes of compressed air with its 129 kW, six cylinder Deutz engine, four pressure levels from 8.6 to 14 bar and free air deliveries up to 17 m³/min at 8.6 bar.
The M 130 offers 10 to 14 bar with free air delivery from 9.4 to 12 m³/min. The unit is equipped with a 23 kVA generator and is capable of delivering both direct and alternating current.
In addition to chassis-mounted models with a run-on brake and height-adjustable or fixed tow-bar, Kaeser also offers stationary versions.
Atlas Copco launched its Tier 4 Final XAS 185 portable air compressor earlier this year. The unit is a single axle, oil-injected rotary screw compressor that delivers 185 CFM (5.4 m3/minute) at 100 psi (6.9 bar) operating pressure. The XAS 185 Tier 4 Final model is powered by either a 49 hp (37 kW) Kubota or Caterpillar engine.
Fitted with a stepless, fully automatic unloader valve and speed regulator, the XAS 185 Tier 4 Final constantly varies the engine speed according to the air demand, reducing fuel consumption and emissions.
Cleaner power will continue to be the driver for portable power development pushing into 2015 as emission standards become more stringent, and contractors and developers focus on their carbon footprint.