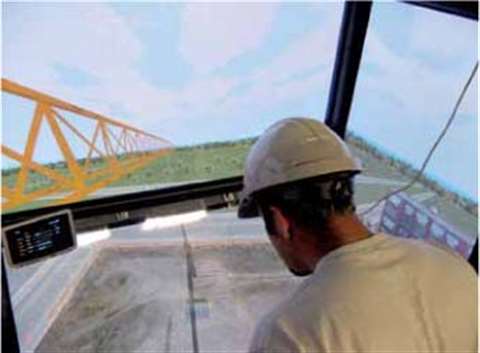 IC: When did people start building simulators for cranes?
Robert Weldon: As soon as they could. During the Second World War, people started making simulators for planes. They didn't do that with vehicles because, back then, vehicles were not that heavy, they were pretty small – you would basically have a standard truck with a winch on the back.
It took them a long time to get where we are now with hundred tonne vehicles. They can be really dangerous but, because the existing generation of trainers and operators grew up with the increasing size of vehicles, there is a psychology that you do not need that much training, where as, in reality, you do. You may need as much training as you do to fly a plane. People are not completely recognising that and that is where OETIO comes in, which does a lot more training than most of the people in the States and even in Europe.
There is also the cost of accidents. Construction sites are going up much faster than they used to – they are working 24 hours a day, seven days a week to finish things. The industry has been pressed for operators, so, with a simulator you can train people who would not have the opportunity, and the technology has just got there.>
IC: How has the technology developed?
RW: In the early 1990s it was based on SGI boxes. There were a couple of companies using very expensive platforms with SGI and complicated tracking systems. What happened was, they had to charge at least half a million dollars and at least another $50,000 a year for support. That started drying up when SGI went belly up and everyone started moving to PCs. They had a business model that just did not work and most of those guys have gone, but have not really been replaced by the kind of companies, like us, that are doing PC platforms.
IC: What are the benefits of the PC-based simulator?
RW: In this box, we have six or seven computers and the whole thing is essentially a 20th the price of an SGI box ten years ago. That makes it more available and easier to maintain. SGI was extremely expensive because there were not many people who knew how to run an SGI box, but now you can get PC people pretty much anywhere.
IC: How many systems have you developed?
RW: We have six or seven in the field, but three different versions: mobile, tower and conventional crane.
IC: What makes CM Labs' simulators different from the rest?
RW: This is unique in a couple of areas; one is that the physics is very good, which is my company's main focus. In terms of the field, we've had this up against two main competitors and people are saying there is no comparison. We have developed it with operators, by having crane operators >on our team from day one, which I don't think anyone else has done. We have also used instrument data to check how fast the boom should fall, etc.
IC: How did you get involved with OETIO?
RW: We had developed a crane simulator and they had a requirement for a crane simulator; at that time our solution was software only. They buy crane simulators from us, they use that in their training, and we have done proposals together in terms of selling combined pedagogical and simulation services.
When we sell equipment, one of our problems is when we go to a big crane company. Most of them are not doing any training at all yet, so they are kind of interested in buying a simulator but, first, they have to work out how they are going to train people at all. And, of course, it's easier to do that in Europe or Canada where there are more regulations about who can and cannot drive cranes. In parts of the States there is simply no regulation.
OETIO has our simulators installed in two of their sites and also provide training consultations services, so they have been down to Brazil and been helping other companies set up training services. The interest to us is that we can sell to their clients and they can sell to our clients. We have some interesting projects that we would like to do with OETIO in the future on different vehicles – some of them are Canadian-specific, some are more international.
IC: Is there now an immediate need for this service in the developed world?
RW: Yes. It starts with the more expensive cranes that do more dangerous work. We do a lot of remotely operated vehicle (ROV) development, and the guys who develop ROVs do not actually operate them, because the risk of making damage in a subsea oil field is so high they cannot afford the insurance. So they sell the ROVs to big companies who can and they need to have some kind of simulation or training tools attached to that ROV. We have worked for four or five companies that have exactly this problem. In the construction area, people are a little bit behind with realising the savings in insurance and damage and vehicle wear and tear that it is achieved through training.
IC: How many crane simulators are you hoping to sell in the next five years?
RW: Concerning the high end ones I do not think you could sell more than five or ten in a year, but we are building some lower end simulators as well, so we could conceivably be doing hundreds.