Shamolima buys Goldhofer THP/SL 12
By Christian Shelton22 September 2017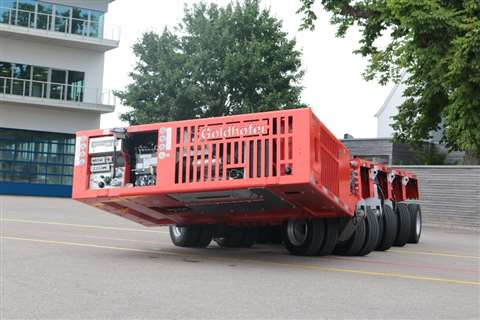 Dhaka, Bangladesh-based heavy haulage company Shamolima has bought a brand-new Goldhofer THP/SL 12 with an Addrive four-axle module and Power Pack.
According to Goldhofer Aktiengesellschaft, the new vehicle will enable Shamolima to move freight with a total load of up to 600 tons. The Addrive system means the rig can travel in economy mode on normal roads and then, with assistance from the Power Pack, switch to an additional traction mode for use on demanding terrain. Heavy items and concentrated loads can also be carried on the dropdeck due to the high flexural strength of the frame and closed loading platform, said Goldhofer. In this way users can benefit from low running heights and fast loading and unloading, Goldhofer claimed. It added that the THP/SL offers flexible wheelbase settings and the deck comes with a hydraulic width adjustment system and spacer for flexible adjustment to different loads and regulations.
"We mainly serve customers in the powergen and energy industry and regularly transport outsize items like generators, transformers and construction machinery," said Shamolima CEO Shahid I Chowdhury. "We have certification pursuant to ISO 9001, ISO 14000 and OHSAS 18001, and to ensure that we satisfy the demands that entails, we have a focus on continuous improvements to our fleet of vehicles. That's why we chose the THP/SL 12 plus Addrive with the Power Pack."
Shamolima will take delivery of the module at the end of October.