Shearcore expands Fortress shear offering
By Leila Steed02 August 2019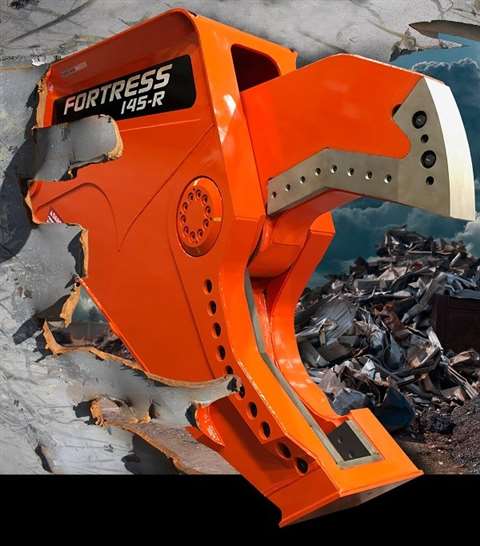 Shearcore, a division of Exodus Machines, has launched a new mobile shear model. Designed for the demolition and scrap recycling industries, the FS145 is the largest model in the company's Fortress product line of attachments.
The FS145 has a shear weight of 12,927 kg (28,000 lbs) with a jaw opening of 1.16m (46 in) and a jaw depth of 1.19 m (47 in).
Bruce Bacon, president of Exodus Machines, said: "A new 'shark fin' rear lug design transfers stress in a new and improved method over any previous design in the mobile shear world, which allows higher forces to be distributed over greater mass. What this means to the customer is that this shear punches above its weight class. A big advantage in the steel processing world."
With a reach of 4.49 m (14 ft 9 in), the attachment has a minimum excavator boom mount of 66 t (145,000 lbs) and a minimum excavator stick mount of 113 t (250,000 lbs).
Both rotating and non-rotating versions of the FS145 are available.