Shipyard lift for ALE
By Laura Hatton18 September 2014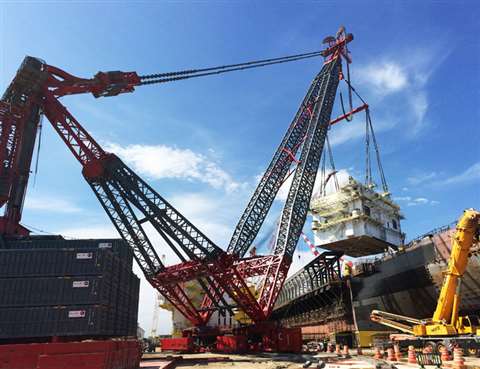 Heavy lift and transport company ALE transported and lifted an accommodation module and a service module in Rio de Janeiro, Brazil.
The accommodation module weighed 1,538 tonnes and the service module weighed 702 tonnes. Both modules were installed on the Petrobras P-74 FPSO at the Petrobras shipyard, Rio de Janeiro.
The modules were lifted using an AL.SK190 crane. With its ring base there is a 35 x 35 metre footprint and lifting capacity is 4,300 tonnes, ALE said. Maximum boom height is 200 m and its maximum load moment rating is 196,000 tonne-metres.
The AL.SK190 was set up with a 118.5 m main boom. In this configuration it carried out three lifts over a ten day time frame. Site moves were carried out using 56 axle lines of self propelled modular transporter (SPMT).
Giovanni Alders, ALE sales manager, said, "Using the AL.SK190 crane saved up to two months in downtime as our customer did not have to take the FPSO out of the dock. The actual lifting time to install the two modules was reduced to two weeks and modifications on the FPSO could still go ahead while the crane was being assembled and disassembled."