Shortlisted companies - Innovation, Tools and Attachments
Country Netherlands
The newly developed Demarec DXS-40 and DXS-50 mobile scrap shears are engineered to deliver an extremely high cutting force and most optimal performance to weight ratio due to the implementation of DemaPower 2.0 cylinder technology. The company says it is a world first of a manufacturer using a different cylinder technique as usual. Normally it is based on two oil chambers with yes or no speed valve cylinder out. The patented technology is based on four cylinder chambers, two-way oil regeneration for open-close in combination with high cylinder forces in shears. This unique feature results in extremely fast cycle times.
Country Germany
Used to grease the wear bushings in hydraulic breakers, Epiroc's new Bio chisel paste helps prevent bushing wear and prolong working tool life. The formulation is based on special synthetic esters that are easily biodegradable and is approved by the European commission for use in environmentally sensitive applications.
Tailor made for hydraulic breakers, Epiroc Bio chisel paste gives excellent performance across a wide range of temperatures, from -30°C up to +1,100°C and has high load carrying characteristics with very good separation capacity.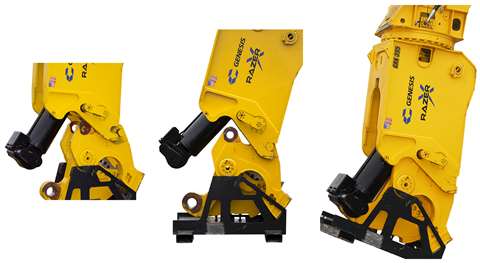 Country USA
The Razer X Multi-Jaw Demolition Tool (GRX) is said to enable excavator operators to change jaw sets in under two minutes, without leaving the cab.
The attachment body contains hydraulically-actuated pins, controlled from the cab, that connect to the cylinder and jaw set. This enables the operator to change jaws without assistance, and while staying in the cab, making change-outs faster and safer.
The Genesis GRX is the only interchangeable jaw demolition tool on the market that enables an operator to process multiple types of material and change jaw sets without getting out of the cab and without requiring assistance from someone outside the cab.
Country USA
Telematics for carriers has been prevalent in the industry for decades and can provide the demolition contractor with valuable information to improve efficiency and uptime. However, once a bucket is removed and replaced with a hydraulic attachment there is a hole in the data – and that hole is occupied by the point of work. InSite pulls information from LaBounty attachments to provide "point of work" performance metrics that help increase productivity and reduce downtime.
On a demolition job every minute of productivity counts. With InSite, the contractor can now be insured that they are getting the most out of their attachment by checking that pressures and flows are set correctly using the proprietary JobOne procedure.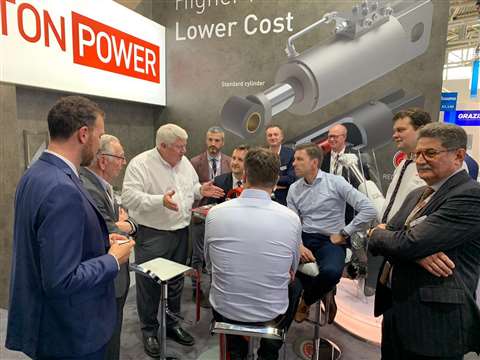 Country Germany
The constant demand for increased performance and efficiency in the demolition industry brings in the need for innovation and evolution in hydraulic equipment, and specifically demolition attachments. Customers require high-pressure cylinders to be faster, lighter and smaller to be mounted in tight spaces as well as energy efficient and low maintenance high-pressure hydraulic solutions.
The PistonPower Cartridge Amplifier (CA) is the first pressure intensifier integrated within the cylinder – eliminating the need for external connector hoses that are commonly used with external pressure boosters. As the solution is internal and very compact, it allows for an easy, safe, energy-saving and cost-efficient answer to achieve a higher output pressure from an existing standard low-pressure power source.