Shortlisted companies - Urban Demolition under $10m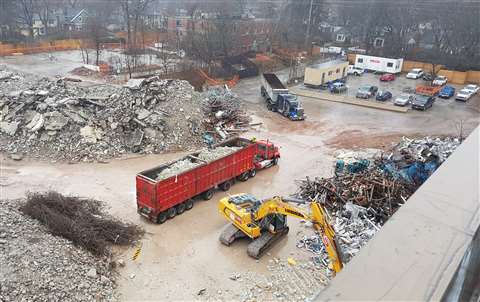 Country Canada
Project Former Oakville Trafalgar Hospital Demolition
Client City of Oakville, Ontario
Delsan-AIM entered into a contract with the client to undertake the decommissioning and demolition of the main five-storey hospital complex (floor area of 41,810 sq m/450,000 sq ft) with multi-level basement and a secondary three-storey office building (area 1,860 sq m/20,000 sq ft) located in an urban setting, at the former Oakville Trafalgar hospital site.
Delsan-AIM was also responsible for the removal of hazardous materials.
The buildings, along with the footings and foundations were removed by conventional means using several large excavators equipped with specialised attachments, such as shears and hydraulic hammers. A high-reach excavator with a range of up to 28 m (91 ft) above grade was also used.
Country Italy
Project Gioia 22 Milano
Client Coima SGR
Despe combined traditional deconstruction technique with mini-excavators and the typical dismantling technique of industrial metal carpentry plants.
In just six months, Despe literally "disappeared" 90,000 cu m (3.2 million cu ft) of above ground buildings and 35,000 cu m (1.2 million cu ft) of underground buildings - with the related foundation structures (about 8,000 cu m/282,500 cu ft).
It has also disassembled around 3,000 t of carpentry (with shots of whole "structural segments" up to 20 t each) and crushed 75,000 t of demolition aggregates.
Despe designed the process by merging traditional deconstruction techniques using mini-excavators and the dismantling techniques normally used for metalwork industrial illustrations.
Country Italy
Project Cut & Drop Lyon
Client SNCF (French Railways)
The Cut & Drop system was used for the first time in Europe and is sophisticated system that requires extraordinary precision, superior levels of engineering and a solid and well-organised schedule plan.
This demolition technology was used just once about 10 years ago in Japan for the controlled deconstruction of a skyscraper, and the principle is based on the performance of works on the entire building using a series of hydraulic jacks positioned at the level of foundations.
The base of the building is then divided into sections and removed by means of wire or disc cutting at a height of about 1 m (3 ft, which corresponds to the stroke of the hydraulic jacks), the building is then brought to the ground by the same hydraulic jacks (which complete their stroke when closed) and, after extending the rod and reaching a new position, are ready to descend again.
This process is repeated until the building has been completely deconstructed.
O'Rourke Wrecking Company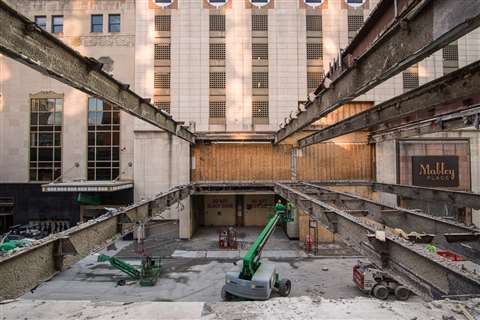 Country USA
Project 4th & Race Parking Garage, Skywalk and Mabley Place Bridge Demolition & Site Work
Client Cincinnati Center City Development Corp c/o Turner Construction Co
This was a high-risk, complex demolition project with significant liability exposure that was expertly completed by a leading demolition contractor. Through O'Rourke's expertise and
guidance, demolition work was completed safely without any damage to neighbouring buildings, disruption to the general public or negative impact on the environment.
This involved collaborative pre-planning, safety, protection and modern demolition techniques augmented through the precise use of more traditional operation.
Every major demolition technique was used on this project, from structural demolition with crane and wrecking ball; selective demolition to take the northern half of the garage down floor-by-floor; interior demolition to hand separate the garage from directly adjacent or abutting neighbours; and a modern ultra high-reach demolition excavator to assist with take-down and post-secondary debris reduction.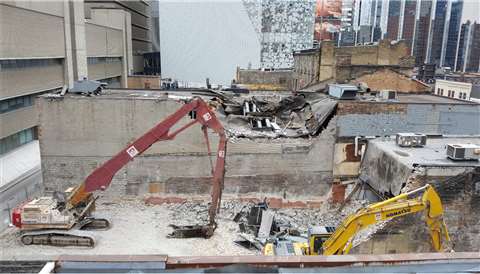 Country Canada
Project Yonge and Gerrard Demolition and Façade Retention System
Client Cresford Properties
This project entailed the demolition of 10 buildings covering 4 m by 95 m (13 ft by 312 ft) on the busiest street in Canada within a six-month time period.
A total of 60% of the buildings were considered heritage buildings and their facades needed to be kept standing, secured and retained by a façade retention system for up to six years.
At the Yonge Street Mission building there was a requirement to salvage 2,500 bricks and 50 0.3 m x 0.3 m x 9 m (1 ft x 1 ft x 30 ft) timber beams.
Asbestos abatement (Type 1,2 and 3) was carried out in all the buildings before demolition began. The four non-heritage buildings in the centre of the block were demolished using a high reach and 50 t excavators.