Show Preview - Access International
By Access International10 February 2016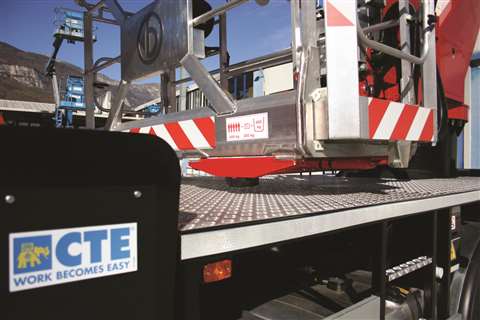 The largest construction equipment exhibition in the world returns this year from 11 to 17 April in Munich, Germany. Taking place every three years, Bauma Munich is expected to attract around 3400 exhibitors and half a million visitors. The show took up an enormous 575000 square metres the last time it took place, in 2013, and it is booked to capacity again for 2016, with over 700 companies on the waiting list.

One the access manufacturers appearing at the show is Canada-based Skyjack. Malcolm Early, vice president of marketing at the manufacturer summed up the sense of anticipation surrounding the lead up to the exhibition. "Bauma is an important show that Skyjack can't afford to miss.
"The rental and infrastructure industries, which have always been solid in central Europe, are key to Skyjack's overall global development."

Mr Early makes reference to the European Rental Association (ERA), which is predicting that the continent's rental equipment market will grow by 2.7% in 2016. The UK in particular remains a strong market for
Skyjack, with economic recovery in France and Germany also imminent, according to ERA's Market Report 2015.

"With Bauma right on Europe's doorstep, and the economic situation brightening year-on- year, the show will help us attract more European customers from some of our key target markets," Mr Early adds.

As you would expect, there are plenty of new launches and activities relevant to access equipment buyers planned for Bauma Munich, and the following is a snapshot of some of the early news concerning the show.
Half century

This year marks Genie's 50th anniversary and the manufacturer will be celebrating the landmark throughout the show. "From Bud Bushnell's garage in 1966, to the 4500 team members serving customers around the world today, our customers have trusted us and helped us build and define the aerial industry, to offer people ways to work at height safely," says Matt Fearon, president Terex AWP. "Genie is the story of teamwork, and it is through working with our customers that we will continue to find new solutions and opportunities to take them higher. For us fifty years is just the beginning, the best is yet to come."
There will be four new products on the Genie stand among up to 20 of its latest and most popular models. They include two new Genie Z-boom lifts, a new compact GTH telehandler and a redesigned Genie vertical mast lift, the details of which will be released closer to the show.
In addition to a host of birthday surprises, customers can learn how its New Maintenance Protocol and existing Genie Service Solutions (GSS) offering can simplify and make their business more profitable.
In the past Genie lifts were subject to several different maintenance protocols and required 24 separate manuals. To help lower total cost of ownership and drive rental returns on invested capital (rROIC), owners of Genie S- and Z-boom lifts now benefit from a new streamlined approach that reduces scheduled maintenance processes.
Palfinger platforms will present the new P 750 truck mount, while Palfinger's partner, Palfinger Platforms Italy will be next door and introduce an innovative new range of crawler mounted platforms and present the latest models in its Low Smart Series of vehicle mounts.
The P 750 completes the Jumbo Class NX (next generation) range. With a working height of 75 m and a lateral reach of 39 m, it has a hydraulically operated X-jib between the upper boom and the work basket allowing for precision working. It can be controlled individually for precise positioning and offers a work area of 240 degrees. This is supplemented by a basket rotation of 2 x 200 degrees.
"It is just as flexible as a wrist above an extended arm and allows exact orientation," explains a company spokesperson. "Thanks to this enormous flexibility and the sensitive proportional control, the new P750, can now take on tasks in which conventional access platforms reach their limits." Additional storage boxes beneath the aluminium cover provide plenty of space for tools and equipment.
Skyjack will unveil two new products at Bauma; the SJIII 4740 DC electric scissor lift and the SJ30 ARJE articulating boom with rotating jib, as well as displaying its existing range of platforms and accessories.
The SJIII 4740 is the tallest DC electric scissor Skyjack has ever produced and boasts a working height of 13.8m and basket capacity of 350kg. "Entering into a new scissor class will help fulfil our objective of becoming a full-line product supplier of all types of aerial work platforms," said Mr Early.
The SJ30 ARJE features a working height of 11m and maximum weight capacity of 227kg. It includes Skyjack's numbered-and colour-coded wiring system, along with its easy-to-use, easy-to-maintain design. Mr Early added, "Booms represent a large part of Skyjack's overall product portfolio, so unveiling a new boom at the show will give the European market exposure to our full line."
Expanding services

JLG will have a new telehandler on its stand, the 35IOPS. It will have a 3.5 tonne capacity and a 10m boom but more information is not yet available. There will also be an update to the Toucan mast lift series on the stand.
The manufacturer is also presenting its Certified use equipment service in which used equipment is refurbished and given a six month warranty by the manufacturer.
Power Towers will be on the JLG stand, after JLG bought the UK-based low level access specialist last year. Products will include the Pecolift, Ecolift and Nano SP Plus.
All this will accompany a wide range of JLG products on its stand. "Our intent is to demonstrate the many ways JLG supports its customers throughout the life cycle of its equipment," said Karel Huijser, general manager and vice president JLG EMEA. "It's all about a service-for-life approach to new machine sales and aftermarket support that provides customers with peace of mind at every point in the product life cycle."
Bauma attendees interested in smart technology will see and be able to interact with the JLG Mobile Analyzer, a diagnostics tool that supports predictive maintenance, less downtime, and increased uptime by providing technicians remote access to program, troubleshoot, calibrate, and customise JLG equipment performance. The result is increased productivity.
Hinowa will launch the new tracked aerial platform model Lightlift 15.70 Performance IIIS. It is the fourth model in the Lightlift Performance IIIS series, including the 17.75, 20.10 and 26.14. The new machine has a working height of 15.40 m, horizontal outreach of 6.60m with 10m continuous outreach flush with the wall.
The basket can hold 230kg across the whole working area, while basket rotation comes as standard. The model features a compact stabilisation area of 2800mm x 2800mm and weighs 1950kg – petrol version.
Height of the machine for transport is less than 2m, while machine length is 4020mm – with basket detached it is 3400 mm. It is available with three different engines: Hatz diesel engine 1B40 (7,5 Kw), Honda petrol engine iGX390 (8,7 Kw) with electronic rotation control or with lithium-ion pack.
Holland Lift will launch two products; the HL-190 D20 (diesel) and HL-190 H20 (hybrid) scissors. Together with the HL-190 E20 they form the manufacturer's new line. All machines in the series can be customised to each customer's requirements. The possibilities are: two wheel drive, four wheel drive, oscillating axle, levelling jacks and/or Easy Lube lubrication system.
The HL-220 H25, together with the HL-160 H20 and HL-190 H20 will complete the hybrid programme. "Hybrid technology allows for emission-free operation, both indoors and outdoors, without compromising performance. The great advantage of our hybrid scissor lifts is that they enable you to complete the entire project using a single machine," says the manufacturer.
The parallel-hybrid transmission consists of a combined, single diesel/electrical driving shaft. Both systems work together to operate the hydraulic system for increased lifespan.
Building on 30 years of experience Haulotte Group will introduce the new Star 6 vertical mast. Its prototype was shown at Intermat in Paris, France, last year.
The Star 6 follows on from the Star 8 and 10, launched last year. Star 6 is designed to work efficiently and safely in indoor and outdoor environments: industrial, maintenance and second-phase building works and event industry applications.
It has a 5.80m working height with 3.8m platform height. Several areas have been optimised on the machine including agility in confined working areas, smart transportability, longer lifespan and minimal maintenance. The new asynchronous motors are designed for optimal torque. "This means that operators have even greater proportional control capabilities for precise, smooth and incremental driving to access the most difficult areas," said a company spokesperson.
Haulotte Group has also completely redesigned its website. It includes 20 local websites uniquely created for the group's network of sales and service entities across the world. In this way the group's corporate website offers the visitor an improved experience with simplified navigation, an intuitive interface and a responsive web design for multiple-screen formats.
Big basket
From Co.Me.T. Officine comes the truck mounted Solar with a 400kg basket capacity. Thanks to its basket size at 3.5m x 1.9m, Solar is designed for those requiring a big transport capacity on the truck and a big capacity in the basket for carrying bulky and heavy materials like solar panels and building materials, for example. Working height is 15m, lateral outreach is 2.5m and basket capacity is 400kg.
The new Eurosfilo 14/2/8 HQ JIB from Co.Me.T is an insulated van mount for work on electric power lines with medium voltage. It will also appear on the manufacturer's stand with its articulated jib allowing obstacles to be cleared at height. The insulated basket, insulated boom and other special components guarantee operator safety, says the manufacturer. The machine can measure ground leakage and hydraulic plugs positioned in the truck floor and in the basket provide power supply to the hydraulic tools.
There is no column inside the van: an internal steel structure provides support to the turret rotation and booms, and provides more space inside. Working height is 14m, lateral outreach 8m and basket capacity 200 kg.
CTE will present the S3 Smart Stability System for its ZED and B-Lift truck mounted platforms. The system adapts in real time to the conditions of use, basket load and geometry automatically. This allows the user to take full advantage of the potential of each range's features and allows the user to take advantage of the full potential of each type of platform, says the manufacturer. CTE's aim is to unify hydraulic, electrical and electronic components of its truck-mounted platforms to help with ease-of-use.
Omme Lift is introducing a complete new boom system on its 3710 RBDJ crawler mounted platform. This new and improved design has a six-sided boom section for ultimate stability and large 250 kg SWL. It is comprised of seven sections and provides a maximum working height of 36.9m and a horizontal reach of up to 14.2m, a 130° articulating jib for precision positioning and a flush basket mount. The boom can be raised and extended simultaneously, helping to reach the required height in short time.
Compact dimensions enable access into confined spaces, with a stowed height of less than 1.99m and length of 8m. The basket is easily detachable, delivering a more compact travel length of 7.4m. Width is 1.5m, providing stable travelling on slopes, can be hydraulically retracted to only 1.1m for narrow areas.
Palazzani will launch the new Ragno TSJ 23.1/C. This is the smallest model in the manufacturer's Junior series, designed with typical Palazzani crawler mounted features: compact dimensions, low weight and telescopic boom with jib. All cables and hydraulic pipes are located inside the boom. Available on tracks and wheels, powered by its Bi-energy, Eco and Hybrid options, the Bi-energy option offers a low noise diesel engine with two cylinders liquid cooled and the 220V electric Motor offering 2.2kW.
Length of the machine is 5817mm, width is variable thanks to the hydraulically-enlargeable tracks from 1000mm to 1300mm. Height is 1976mm. The machine offers coloured touch screen displays with diagnostic system and is designed for the rental market to be supplied without an operator.