SIA welcomes new president Bill Breault Jr.
By Lindsey Anderson11 August 2008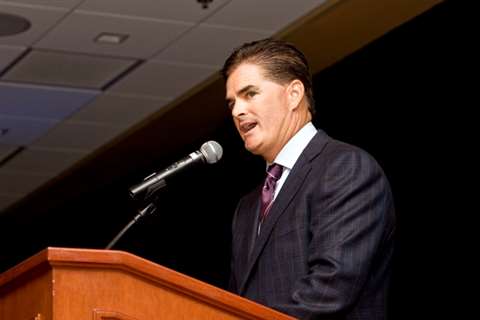 The scaffold industry welcomed incoming president, Bill Breault Jr., at the 36th annual Scaffold Industry Association (SIA) convention and expo, held July 20-26 in Denver, CO. Breault succeeds past president John R. Miller of The Millstone Corp. and will hold the post for two years.
Breault spoke to American Lift & Handlers about his three goals during his two year tenure.
Breault's first goal is what he likened to as 'sustainability.' "Four years ago I was part of a very important process, the development of a long-term strategic plan," he says. "Immediate and long-term goals were defined. My predecessors have made huge inroads to laying the groundwork in the commitment to reduce accidents, eliminate fatalities and create a culture of safe work practices for men and women of our industry. It is one of my directives to take the hard work that has been done to task and implementing it in the field where results will be shadowed thru statistics and workplace confidence."
Breault said his next goal involves enhancing the chapter level education platform. He says the scaffold industry has done a remarkable job through its councils in structuring a code of safe practices in most aspects of the access industry, whether it be for scaffolding, aerial work platforms, planks and platforms, or fall protection, the code is in place for the industry. "The task at hand is to educate the user, the worker at the grassroots level," Breault says. "The direction of education is to enhance our local chapter organization. We currently have eight regions worldwide within our association. The development of local chapters within these regions will provide the podium by which we will educate the tier of worker that reflects the user-base."
Lastly, Breault laid out his final goal - to raise the bar. "In all of my actions, personal and business, I have been a staunch advocate of 'Raising the Bar,'" he says. "In all of the Association's undertakings, alliances, safe practice implementations and membership growth; they will be conducted via a leadership channel that is deserving of the very best."
Also at the Industry Awards Dinner, the new executive committee was installed, following the appointment of Bill Breault Jr. of Breault Industrial Group, Inc., as president comes president-elect Stephen Smith of Edge International; vice president Randy Moody of The Brock Group; secretary Chuck Hutchinson of Bil-Jax, Inc.; and treasurer Daryl Hare of Waco Scaffolding and Equipment. Also joining the executive committee were past president John R. Miller, presidential appointee Jeff Stachowiak of Sunbelt Rentals, board appointee Gene Morgan of Mdm Scaffolding Services and board appointee Mike Russell or Power Climber. The committee's term runs from 2008-2010.
More than 500 dealers and scaffold and access equipment manufacturers attended the week-long event.