Sigma Equipment joins JCB network
By Lindsey Anderson22 June 2018
Miami-based Sigma JCB will service the South Florida marketplace
JCB's North American dealer network has expanded with the addition of Sigma JCB, a division of Sigma Equipment, located in Miami. The company will sell, rent and service JCB's utility and earthmoving equipment, including compact excavators, backhoe loaders, skid steers, compact track loaders, telehandlers, large excavators and wheel loaders.
"Sigma Equipment has always focused on providing complete solutions that increase our customers' productivity, efficiency and safety and reduce their operating costs," said Carlos E. Gallardo, president and managing director of Sigma JCB. "Now, by launching Sigma JCB, we're able to support that focus with industry-leading machines that can have an immediate and positive impact on our customers' bottom lines."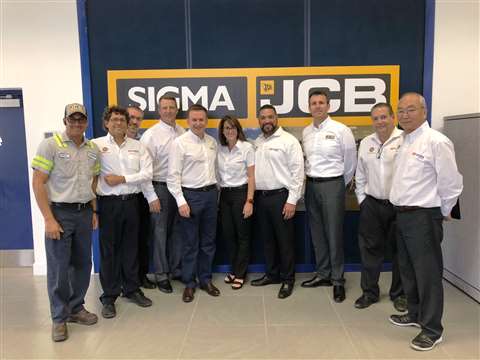 Since 2010, Sigma Equipment has specialized in heavy machinery, work trucks and lifting equipment, and is part of an international group founded in 1986 that specializes in power generation, electric motors, diesel engines, electric conductors and water pumping and treatment systems. The company created and follows the "Sigma Method," a process designed to better understand customer needs and requirements to offer integral solutions that contribute to business growth.
Sigma JCB will operate from its 12-acre facility, including an 8,000-square-foot office and 2,500-square-foot warehouse with JCB signage and branding. A service shop with 20 bays, a fully stocked parts counter and numerous trained technicians will provide top-notch support and a dedicated JCB service truck will be available to make on-site repairs when needed.
"For many years, Sigma Equipment has delivered positive customer experiences based on transparency, credibility and a proactive, can-do attitude," said Christian Baillie, vice president of dealer sales for JCB North America. "Miami is a busy, growing heavy equipment market, and we're pleased to work with a dealer partner that shares many of JCB's values. We look forward to a long and prosperous working relationship with Sigma JCB in the years to come."