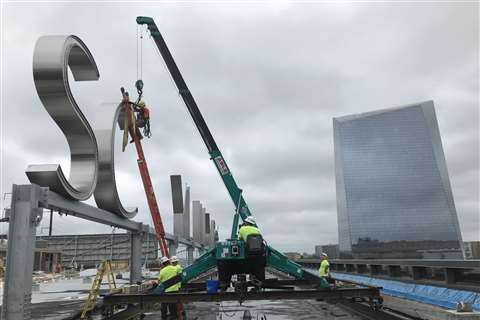 Sign of the times with Maeda
USA-based signage specialist Nova Sign Group used a Maeda MC305 mini crane from East Coast equipment sales and rental firm Able Equipment Rental to lift and install the letters of a stainless steel sign atop a building in West Philadelphia, USA.
The letters read 'Schuylkill Yards' and are now on top of the Bulletin Building, Drexel Square – an area undergoing a US$3.5 billion redevelopment. The letters are 10 feet (3 metres) tall and weigh just under one tonne each.
To efficiently and quickly lift and then install the letters, the Maeda MC305 Mini Crane was mounted on a trolley and rails running along the top of the roof. The trolley was fabricated on the ground by Nova. A 90 tonne all terrain crane was used to set the trolley and rails and the mini crane on the roof.
The letters were then hoisted almost 85 feet (26 metres) from the street below, which had been closed to the public. The trolley-mounted crane then moved along the roof into the installation position next to a 15 foot-tall by 300 foot-long (4.6 x 91 metre) frame.
The whole project took under two weeks from start to finish, including trolley fabrication, while installation of the letters took four days.