Simplify transmission servicing
By Christian Shelton03 April 2017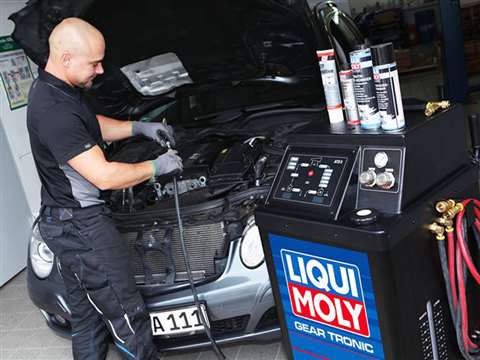 German motor oil and additive specialist Liqui Moly has developed a machine designed to simplify transmission servicing. It has also developed a range of what it describes as 'special motor oils', which it is releasing into the UK market at the Automechanika Birmingham tradeshow in June.
According to Liqui Moly, changing the fluid on an automatic transmission is a complicated matter. It is not, the company says, like motor oil where you can simply release the oil drain plug, as this would only allow a third of the oil to drain away. Liqui Moly says replacing transmission fluid is a dynamic process where the filling quantity in the automatic transmission must remain the same throughout the entire process, otherwise the vehicle's electronic system reports an error.
Liqui Moly says its solution, the Gear Tronic, can assist mechanics with transmission oil servicing, including cleaning, flushing and refilling. It claims its machine ensures that the lubricant is replaced completely. The process is monitored by two digital scales, to ensure that the quantity of new fluid added to the transmission is exactly equal to the quantity of old fluid taken out, says Liqui Moly. The company is also launching a range of motor oils in the UK. The company says its Molygen New Generation oils offer special wear protection, which is based on tungsten, among other substances. According to Liqui Moly, the chemical agents smooth the metallic surfaces in the engine and even out tiny, microscopic bumps, reducing friction in the engine and, therefore, also fuel consumption. Liqui Moly says the oils can also reduce wear by up to 30 percent compared to conventional motor oil of the same quality.