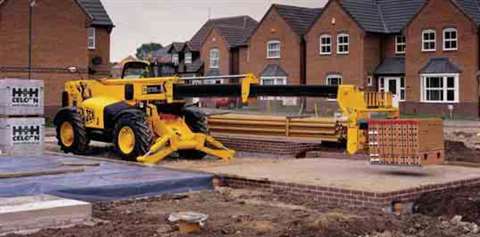 The organisers of smopyc 2005 claim that this year's exhibition will be bigger than the last Intermat exhibition, held in Paris in 2003. They hope to establish the show as Europe's second largest construction equipment event behind Bauma. Exhibition space at this year's show has been extended by +24% since it was last held in 2002, and at 200000 m2 it will certainly be the largest SMOPyC ever held in area terms.
There will be a healthy mix of both domestic and international exhibitors at the show (since 2002 there has been a +15 % rise in foreign exhibitors), although 'new'product launches look like they will be scarce. The exhibition will see the Spanish debut for many products that were launched at Bauma last year, and these will tend to be exhibited by Spanish dealers and agents, although once again foreign companies will outnumber domestic exhibitors.
The Innovation Awards point to the new products and machinery the organisers feel have the most to offer Spanish construction, and taking the 'Gold'award is Komatsu's range of low profile telescopic handlers, which will be presented by Komatsu Espana SA.
Silver medals have been awarded to Ausa for its Task M multiservice vehicle and Bomag for its BW 226 DH—4BVC self propelled vibrating roller. Winners in the Bronze category are Potain's MDT—98 tower crane and Maiquinaria Lorenzana's EX 4000 concrete spreader.
Road Building
The Fayat Group will be showing a range of machines at SMOPyC, including Rincheval's new Super Vega chip spreader. Features include 14 electro—pneumatically actuated chutes, a spreading width of 3,2 m, a dosing bar, and an electronically controlled spreader bar.
Also on its stand will be seven paver finishers (the MF 221 C, MF 331, MF 571, MF 571 C, MF 691, MF 691 C, MF 1007 C) and three cold milling machines (MP 1000, MP 1300 and MP 2100) from Marini.
The paver finishers cover widths from 1400 mm to 12,7 m and laying capacities of 80 to 800 tonnes per hour. The paver finishers have milling depths from 0 to 320 mm and maximum widths of 1000 to 2100 mm.
Dynapac will be showing a range of equipment at the show including its new BG70 ride—on double trowel. It can be equipped with blades or pans and features a 1780 mm working width. The BG70 is fitted with a 20 hp Honda GX620 petrol engine and weighs 320 kg.
Other features include high—speed blade rotation (70 to 150 rpm), reduced edge after trowelling (25 mm between blade guard and blades), a centrally placed engine for better weight distribution, a retardant spray tank, three halogen lights, adjustable seat, two lifting eyes on each side of the seat for balanced lifting and a centralised control box under the seat. Also on its stand will be the Dyno 350 and 350T (tiltable) table saws, Okra 350 and 450 floor saws and SMART electronic poker vibrators.
Earthmoving
Kubota is launching its enhanced KX—3 (KX91—3a, KX101—3a, KX121—3a, KX161—3a) and U—3 (U35—3a and U45—3a) series mini excavators as "a series"in the 3 to 4 tonne and 4 to 5 tonne class at SMOPyC.
Extec's new e—7 screen (left) gets its spanish launch at smopyc alongside the already established c10 tracked jaw crusher (right).
Succeeding the basic specification of its conventional models the "a series" adds an auxiliary switch on the right control lever and a 2—speed switch on the dozer lever to all models. The KX41—3 now features a digital panel, which uses its 'Intelligent Control System' to display current working diagnostics for the engine, fuel level and oil temperature. The KX161—3a features increased fuel tank capacity (70 litres). A long arm for the U35—3 zero tail swing model is optional.
Getting a European launch at the show is the first of Hyundai's new Robix dash–7 series of mini excavators, the 55-7. This short radius machine has a width of 1,92 m, weighs 5,7 tonnes and has a 55 hp (40 kW) Yanmar 4-cylinder diesel engine. Other features include foot operated speed control, pilot operated joystick controls, air conditioning, new seat and ROPS/FOPS cab. A new hydraulic system provides higher torque for slewing and braking, and faster digging cycles. Maximum digging depth is 3,82 m, with 130­ boom offset.
Also on the Hyundai stand will be its 210LC and 200W-7 excavators fitted with 'DDE' (Deep Digging Equipment). Developed specifically for cut-off wall foundations, DDE is suitable for both wheeled and crawler excavators in the 20 to 25 tonne class. JCB will show the latest models in its range of telescopic handlers - 535-140 Loadall and 524-50. The 535-140 is a 3,5 tonne payload, 13,8 m total lift height machine. It is available with a choice of engines – Nat asp 82 hp (61,5kW) engine, a Turbocharged 100 hp (74,5kW) engine, or a 120 hp (90,5kW) engine – and JCB's new Clearview carriage, which gives a better view of the forks and allows fitment of its Integral Sideshift and Fork Positioning option. It is available in stabilised or sway/stabilised versions.
The new 524-50, which boasts a maximum payload of 2400 kg, has a lift height of 5 m and an outer turn radius of 3 m. It is designed to work on sites previously restricted to skid steer machines where space is at a premium.
Liebherr will exhibit a range of machines from the group's entire product range, with the highlights of the earthmoving sector being the 11 tonne A309 and the 12 tonne A311 compact wheeled excavators. The company will also display a range of cranes, including the compact mobile LTC 1055, which will be making its first Spanish appearance. The only crawler crane on show will be the 70 tonne capacity HS 845 HD, which has a transport weight of only 30 tonnes when stripped of its tracks.
Best Of The Rest
UNIC Cranes Europe is launching the A094CR, "the world's smallest crane" according to the company, at SMOPyC. Just 590 mm wide and weighing 1000kg, it is designed for manoeuvring into the tightest of working areas. Once in position, the A094CR is capable of lifting 0,995 tonnes, with its 5,49 m long boom allowing a maximum hook height of 5,6 m.
Other features include a joint three-fuel engine option – petrol, LPG and mains electric, remote control, a computerized audible warning system and an overload warning device that senses and alerts the operator to outrigger displacement from overloading.
At the heart of the Manitowoc stand is expected to be the new Grove GMK5130 all-terrain crane alongside a European-made Manitowoc crawler, both of which will be making their first appearance in Spain.
Extec Screens and Crushers will be showing the latest developments in its mobile screening and crushing plants. Machines on show will include the S-Series of tracked, three-way split-screen systems. Also on its stand will be the C-12 and C-10 tracked jaw crushers.
Extec will also be using SMOPyC to launch the new E-7 screen to the Spanish market. Features include a heavy-duty hopper, which is adjustable for length and loading height, with a maximum capacity of 10 m, a double plated apron plate feeder, heavy-duty screen box with high throw and vibration and an adjustable angle of incline ranging from 10­ to 22­.
Ibergruas SA, as well as displaying Potain tower cranes, will exhibit the most recent mastclimbers from Saltac and CMS. Ibergruas has been appointed as the Spanish dealer for these brands and is currently promoting them through its rental fleet in an attempt to sell the concept to Spanish contractors.
Linden Comansa, Spain's leading crane manufacturer, will be exhibiting but is facing such a full order book that it will not be able to confirm which cranes from its LCL and LC range of topless tower cranes will be on show.
Arden Equipment will exhibit its full range of excavator attachments, rehandling buckets, pulverisors and shears. The company claims that it is currently producing two units of its popular "S" multi function grabs per day for customers across Europe.
HAWE Hydraulik will be showing proportional directional spool valves for load-sensing control. Operated via an HBC remote control, for easy operation of truck mounted cranes and break down lorries, it includes directional valves, lightweight axial piston pumps and over-centre valves for oscillation dampening.
The V60N axial piston pump has a maximum operating pressure of 400 bar and, according to the company, offers a high degree of safety against pressure peaks occurring during operation.