Singapore MRT employs Aver Asia
By Euan Youdale13 October 2016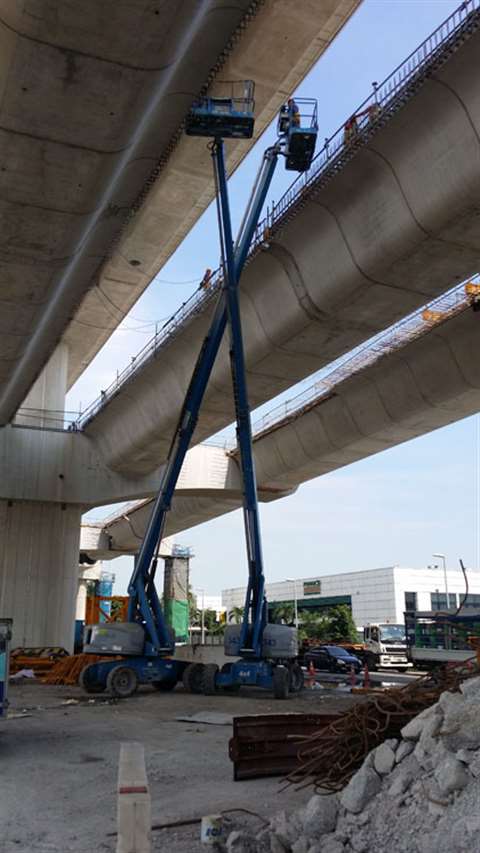 The Singapore Mass Rapid Transit (MRT) system opened in 1987 with just five stations. Today, it spans the whole city-state with 101 stations over a 171 km route. On average, more than 3 million people use it daily.
An extension to the East West Line was announced in January 2011 by the Singapore government. The Tuas West Extension adds four more stations, bringing the line closer to the second causeway link to neighbouring Malaysia. The construction work started on 4 May 2012 and is expected to be completed by the beginning of 2017.
It will add another 7.5km of twin-tracked MRT viaduct and with the road viaduct that is under construction, the extension will help increase road capacity, while commuters will save a significant travel time.
Aver Asia (S) rented 120 Genie machines for the project including Genie Z-80/60 articulating boom, GS-5390 RT rough terrain scissor, S-105 telescopic boom, GS-1930 slab scissor, Z-34/22 N bi-energy boom, and GS-2646 compact scissor units.
The machines came onto the project at the monitoring and evaluation (M&E) stage to carry out electrical and fire protection installations. They were mainly used to elevate workers to hard to reach areas of the MRT viaducts. "The narrow working space created a big maneuverability issue," said Steven Lee, sales manager, Aver Asia.
"So we had to ensure that our machines are always kept in good condition, especially the tyres and body. One small fault could have serious consequences on the job. Most times the machines were chosen to fit the tight dimensions of a job location. In one instance, when our customer was working in the underground MRT project, they had to design a platform to put the GS-1930 so that they can operate the machine."