Site report: Airport working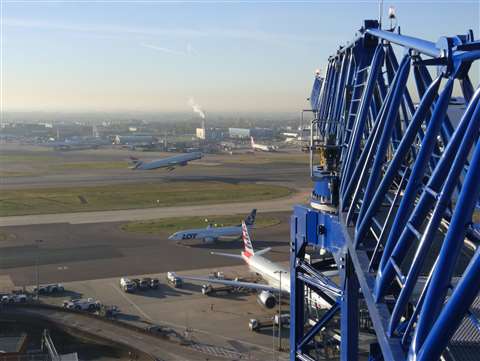 Operating tower cranes close to airports requires careful planning due to height restrictions, among other things. City Lifting in the UK supplied a 50 tonne capacity Linden Comansa flat top crane for a project at Heathrow Airport west of London. The 21LC750 was erected to help construct a hotel next to Heathrow Terminal 2.
Around 80 million passengers pass through Heathrow each year and there is growing demand to have hotels as part of the airport. At present Heathrow has two, at Terminals 4 and 5, close to runways and away from the central area. In May 2017 the Arora Group started building a new one, of 14-storeys, next to Terminal 2.
Trevor Jepson, City Lifting owner, commented, "The 21LC750 at Heathrow Airport is the largest flat-top crane in the United Kingdom. We are convinced that when the crane finishes its job in this jobsite, we will receive plenty of rental enquiries, because the trend is to use heavier prefabricated units in construction and machines like the 21LC750 will be more necessary for construction companies to work in a quick and efficient way. This model is the perfect addition to our tower crane fleet, which includes 43 units from Linden Comansa."
Some of the precast concrete modules weigh as much as 13.2 tonnes so a big crane was needed. City Lifting, which is also the UK Linden Comansa distributor, provided a special version of the tower crane, with a 50 tonne capacity rating instead of the standard crane's 48 tonnes.
To get the extra capacity the design of the trolley and hook set was optimised and using compact wire rope for the hoist cable allowed the design engineers to use smaller pulleys, especially in the trolley. Weight was saved and the trolley was made much stronger, Comansa said, helping to increase the jib end load by 200 kg. These improvements will also feature on a new model of large tower crane due for imminent launch.
Crane height at an airport is a vital consideration for safe working. The Heathrow crane was erected freestanding to a height of 51.3 metres. It is erected at the maximum height permitted by the aviation authority which requests that nothing be more than 62 m.
Commenting on the installation Bob Jones, City Lifting director, said, "We had to use a flat top tower crane as the ceiling height of the airport radar interference is only 2 m above the crane. If an A-frame type crane was used it would have penetrated the radar."
In this configuration with a 55 m jib, lifting capacity at the end of the jib was 16.2 tonnes. This can be increased to 17.28 tonnes by using the PowerLift system which is standard on all flat top models from the Spanish manufacturer.