A height of more than 80 metres led to the choice of a pair of internal climbing tower cranes for a large commercial construction project in India. ICST reports
India is not known for its high rise buildings but that is changing with the likes of the new Balewadi Techpark under construction in Pune.
The Balewadi Techpark Pune is a part of the 2.2 million square foot Panchshil Business Park, in the north west of the country near Mumbai. It will offer shops occupied by 23 high-end retailers spread over two basements, the ground floor and 16 stores.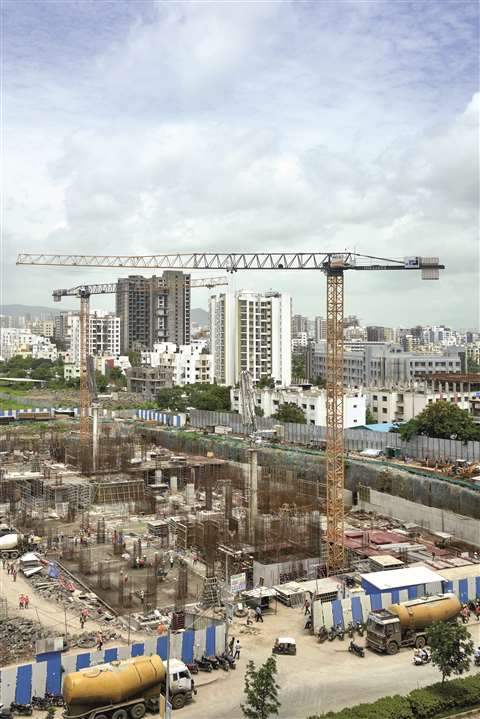 Previous good performance led to contractor S.J. Contracts Pvt. Ltd. once again specifying a pair of Liebherr tower cranes to help build the latest retail development. In 2016 the contractor used two 85 EC-B 5i towers. For this latest project the company also chose a pair of flat top towers, this time of the type NC-B 6-62 introduced in 2016. The six tonne capacity units have 50 metre jibs and 83 m hook height.
Both are configured as internal climbers because of the 83 m height of the building. Building material weighing up to 3.4 tonnes has to be lifted out to a radius of 35 m where that crane can lift 3.92 tonnes. Their 50 m jibs allow coverage of the whole construction site. Loads include lifting the climbing formwork. Tower heights were initially set at 46.80 m to allow around 18 m of height for construction to progress. The NC-B 6-62 achieved 21.7 m so fewer climbing steps were needed and the whole building process was faster.
The NC-B series was developed for use in conurbations in emerging countries, Liebherr said. There is a nine-tonne version good for hoisting heavy prefabricated components. Typical applications are shopping centres, production plants and car parks. The six-tonne capacity model is aimed at tower block construction in inner cities where loads are lighter but hook heights are greater.
The new 16 EC tower system (1.60 x 1.60 m) was developed for these new NC-B cranes. It is a pin-connected design and can be used with a climbing frame. Its hydraulic power pack works with internal and external climbing installations and can be moved around and used on other Liebherr towers in the same class.
Liebherr has been manufacturing cranes in India for the local market since 2012. The two cranes in Pune were erected on site in June 2017 and the building is due to be completed by the end of 2018.