Liebherr says it developed the LHM 800 at the request of port operator Montecon because there were no mobile harbour cranes big enough to meet the needs of the largest ships
"The trend to bigger vessels and investments into new ports has driven the demand for bigger dockside equipment," says Wolfgang Pfister, head of strategic marketing and communication at port crane manufacturer Liebherr-Werk Nenzing in Austria. "Ports around the world have to handle bigger vessels and so need to amend their infrastructure to maintain competitiveness."
One such port is the Port of Montevideo in Uruguay, South America, operated by Montecon. Four years ago, Montecon tasked Liebherr Maritime Cranes with the challenge of creating a mobile harbour crane big enough to meet the needs of its largest ships. In May 2017 Liebherr delivered, with the LHM 800. In fact, it delivered two…
Liebherr says that the LHM 800 is the biggest mobile harbour crane in the world. It is capable of lifting 308 tonnes, has a bulk handling capacity of up to 2,300 tonnes per hour, and has a 64-metre outreach, meaning it can serve container vessels with a width of up to 22 rows of containers.
In addition to single lifts, the LHM 800 is designed for tandem lifts – hence Montecon's double order. This means, with Liebherr's Sycratronic tandem operation tool activated, one crane driver can simultaneously operate two cranes for improved speed, capacity and safety. In tandem operation with a second LHM 800 capacity is 616 tonnes. "In container handling configuration the fulcrum point is above 36 metres, which eases the handling of bigger vessels," explains Pfister.
As well as being big, the LHM 800 is fast. "It can hoist and lower containers with a speed of up to 120 metres per minute," says Pfister. "This allows for 38 boxes per hour in standard configuration and up to 45 boxes per hour if the crane is equipped with Liebherr's hybrid power booster Pactronic."
Need for speed
Speed is important as it translates into a greater productivity rate; as we all know, time is money. As such it was also a determining factor for Rotterdam Short Sea Terminal B.V (RST), one of Europe's largest short sea terminals, when it placed an order with cargo handling solutions and services provider Kalmar for two of its ship-to-shore (STS) cranes.
"We have had Kalmar STS cranes in our terminal for many years and they are some of the quickest in the world, allowing us to optimise our overall operational efficiency and keep service times for vessels and trucks the shortest possible," says Cees van Pelt, technical department and projects manager at RST. "Based on the solid performance of the current Kalmar cranes, and the expertise of the local Kalmar team, we are confident that these new cranes will meet our STS productivity targets and help us continue to provide reliable service to our customers."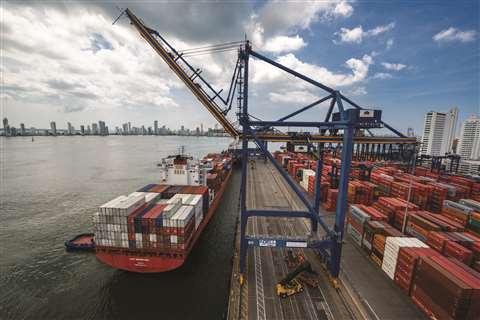 In today's fast-paced cargo handling environment, speeding up ship turnaround times can give your port a significant competitive advantage, says Kalmar
Refurbishment
Purchasing new machinery is not the only option for ports looking to accommodate the new generation of super container vessels. Upgrading existing crane facilities can provide an attractive solution and is a service offered by a number of crane manufacturers. Liebherr Maritime Service reports that since 2013 the number of orders for overhauls on its maritime products has more than doubled and in 2015 it set up a specialist department, the Liebherr Maritime Service Factory, to deal exclusively with refurbishment projects.
The department is based at Liebherr's factory in Rostock, Germany, where its service activities range from the repair and exchange of single parts and components up to the complete overhaul of machines. Its latest overhaul project was on a LHM 180 built in 2008. It was in constant use in the port of Figueira da Foz, Portugal. Once back at the Liebherr Maritime Service Factory the steel structures of the undercarriage, the slewing platform, and the tower were all extensively overhauled and electrical parts were refurbished. The whole process took 12 months and involved a team of 30 Liebherr employees. The crane was bought by petrochemical company Petrokemija d.o.o. in Croatia where it was assembled and returned to service in the middle of March 2017. The LHM 180 has a maximum outreach of 35 metres and a capacity of 35 tonnes in grab operation. It is now being used for bulk and general cargo handling in the port of Sibenik, Croatia. According to Liebherr, overhauling existing equipment provides an economic option without any compromise in terms of quality, plus crane operators can continue using machinery they are familiar with.
Raising the bar
So we've seen how ports are either buying new or refurbishing old machinery but how about modifying new machinery?
Mitsui Engineering and Shipbuilding (MES) – a leading manufacturer of STS and port transfer cranes – was faced with an conundrum recently when it had to raise the height of two already manufactured portainer dockside gantry cranes by 6 metres to cope with the increasing size of container ships prior to delivery to a Malaysian customer. The cranes weighed 1,650 tonnes and, usually, MES would use a lifting tower to raise a crane's upper section and slide the legs underneath. Unfortunately, the lifting towers were too short so the company had to look at alternative options. Working with its transport and engineering services supplier, Binan Development, the two companies engaged the services of high-pressure hydraulics specialist Enerpac, and its 2,000 tonne capacity JS500 jack-up system, to resolve the situation. Four jack-up units were positioned at each corner of the (braced) gantry crane, lifting it by increments as steel boxes were slid into each jack-up unit and stacked to form lifting towers. Using this method, the entire lifting and lowering process, including the addition of the leg extensions, took just three days. Enerpac claims this is much faster than other methods.
So as the race to accommodate the ever-increasing size of bigger vessels advances we can see how the manufacturers of dockside lifting machinery are innovating to win.