Skanska to reconstruct famous US bridge
By Catrin Jones13 October 2022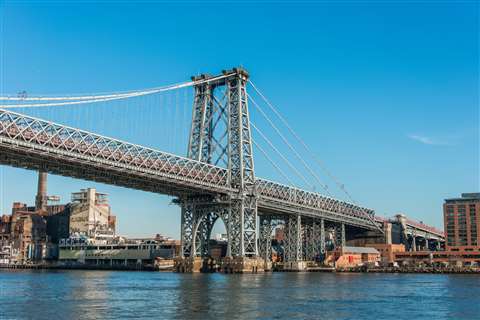 Skanska has announced that it has signed a contract with the New York City Department of Transportation to reconstruct and rehabilitate the Williamsburg Bridge in New York City, US.
Measuring over 2km long, the bridge has undergone several refurbishments since it was completed in 1903. Work will begin this month and is anticipated to be completed by the end of 2025.
The scope of work includes the replacement of the stiffening truss bearings at the anchorages and main towers, chord stiffening top and bottom truss repairs, installation of inspection platforms and maintenance travellers, and installation of an Intelligent Transportation System.
The US$150 million contract will be included in Skanska's US order bookings for the third quarter of 2022.
The Williamsburg Bridge is one of the major crossings of the East River, connecting Manhattan and Brooklyn and serving some of the busiest arteries in New York City. As of 2018, an average of over 104,700 vehicles, 6,700 cyclists and 5,500 pedestrians travel over it each day.
When it opened in 1903, the Williamsburg Bridge was the longest suspension bridge in the world