Skipper cordon launch
By Euan Youdale20 April 2016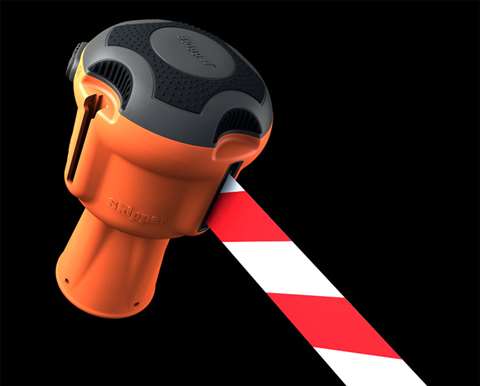 Health and safety product manufacturer Skipper has launched an update of its existing Skipper unit, along with its new XS model.
The Skipper, for cordoning off areas, was originally launched in 2005 but has now been refined and redesigned for 2016 to be tougher and more durable.
It can be attached to the top of standard cones, the Skipper cone or a post and base system, which, in turn, can be transformed into a waste & safety station. The tape can attach to surfaces such as walls, shelving, glass, railing or vehicles. This system is suited to constantly changing work environments and can withstand extreme weather conditions, said the manufacturer.
This XS unit is essentially a Skipper without the need for posts or cones. It features the same 9m of retractable tape and can be used in conjunction with a wide range of accessories to quickly and easily create internal cordoned areas. Accessories include a rechargeable safety light, A4 sign holder for warnings, magnetic cord strap, suction pad and clamp & wall support bracket.
The company's waste management range includes recycle bins, sanitiser brackets and dispensers for storing gloves, hairnets and safety glasses ensuring for all aspects of health & safety.
The company said its business has branched out into new sectors and applications. With construction being its original focus, sectors such as facilities management, scaffolding, maintenance, power and telecommunications, as well as warehousing and manufacturing are also now being targeted.