Sky Climber goes higher
By Lindsey Anderson20 February 2009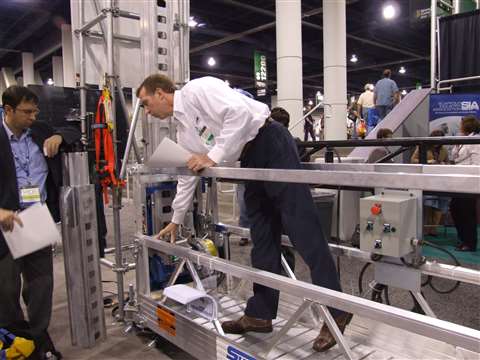 Suspended access company Sky Climber was eager to show off its newest products for 2009 at World of Concrete, Feb. 3-6 in Las Vegas. Included in the bunch was the anchored, mast-climbing Sky Master platform. "We've been working on this for 2.5 to 3 years," said Todd King, Sky Climber general manager. "We were approached by customers who had issues with certain roofs that they couldn't suspend from."
So, the company went to work and developed the Sky Master. The unit uses standard Sky Climber man-rated hoists, as well as the company's Sky Stage ultra-modular platform components allows one to two people to install and use the Sky Master. It can be built as tall as 200 feet high and 40 feet wide and is supported by wire rope.
"If the wire rope slips or breaks, the machine will lock automatically using its anti-tilt device," King said.
Attachments go from the Sky Master into the building's wall where it will be utilized every 20 feet. "It's like a lightweight mast climber," King said. "Very unique and rent-ready."