Skyhook lifts wind farm monopiles
By Leila Steed07 September 2020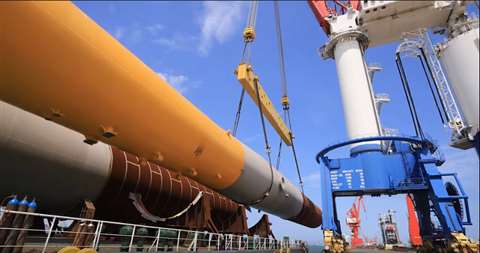 Huisman's Skyhook crane in China has lifted its first batch of offshore wind farm components. The slewing jib quayside crane hoisted 100-metre long foundation monopiles, each weighing 1,700 tonnes, from the deck of a cargo vessel.
Built by Dutch crane and technical engineering company, Huisman, the Skyhook crane occupies its own facility near Xiamen in China. According to Huisman, this latest lift shows that the Skyhook model is suitable for offshore wind marshalling ports.
Cees van Veluw, cranes product manager at Huisman, said, "With the high ambitions for offshore wind in various parts of the world, we see that more permanent yet more flexible lifting solutions are key to further efficiency gains in the logistics chain."
Said to be the largest slewing jib quayside crane in the world by its manufacturer, the Skyhook lifts 2,600 tonnes at a 30 metre radius. It has limited track loads to reduce the cost of quayside foundations. Also feaured is an optimised counterweight system and offers dual main hoist functionality for flexibility in rigging setups.
Veluw added, "The capacity of the Skyhook matches the foundation sizes we see in the near future, while the dual main hoist gives large advantages to easier connection and handling of loads. With new marshalling ports being developed worldwide, we see that the Skyhook can contribute to further optimising the logistics of offshore wind turbines and foundations."
The fully electric crane is also said to offer reduced maintenance and is capable of providing regenerative electricity back to the grid.