Skyjack boom assists in windmill repair
By Lindsey Anderson29 July 2014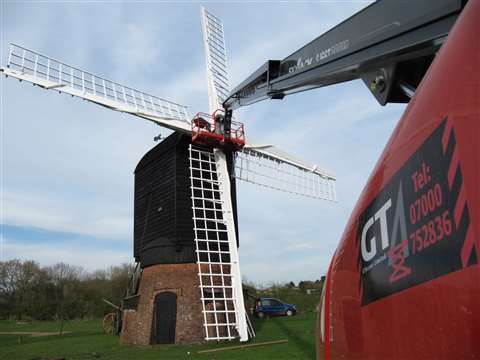 Skyjack recently helped repair a 19th century windmill using an SJ 66T telescopic boom lift at the Avoncroft Museum in Worcestershire, UK. The SJ 66T spent a week working to repair the 200-year-old windmill.
Supplied by local platform rental company GT Access, the SJ 66T offers a 22.12 m (72.6 ft) working height and 17.37 m (57 ft) of horizontal reach.
Simon Carter, museum director at Avoncroft Museum, explains that to reach the windmill's broken sails, the team had to navigate over a large field and work around a number of other historic buildings.
"The windmill is located at the far end of the museum, and we needed a machine that could cross uneven ground to reach it," Carter says. "The SJ 66T was ideal because its four-wheel-drive system allowed us to move easily over the rough terrain. Repairing the windmill was a very delicate task, but the machine has the control and maneuverability we needed to complete the project to the high standards we were expecting."
Skyjack machines make up close to 40 percent of GT Access's fleet, and Tom Long, manager of the company's local Bromsgrove depot, explains that the SJ 66T was chosen because it was perfectly matched to the needs of the Avoncroft project.
"The SJ 66T is certainly one of our most popular machines, and was chosen to give the team the flexibility and maneuverability they needed," he says. "We look forward to helping Avoncroft on future projects using machines from our Skyjack fleet."
The traditional post-mill at Avoncroft needed repair after pieces of wood from the windmill's sails became loose, requiring repacking to reduce wobble. The work was done as a preventative measure to reduce further wear and tear, and to preserve the historic building.
Avoncroft is England's first open-air museum and has been welcoming members of the public for more than 50 years. It is home to more than 30 historic buildings and structures that have been restored and re-built.