Skyjack climb continues
By Euan Youdale07 August 2017
The Industrial division of Linamar, which is essentially made up of Skyjack, increased its product sales by 24.5% in the second quarter of 2017, or $71 million, to $361.1 million, compared to the same period in 2016.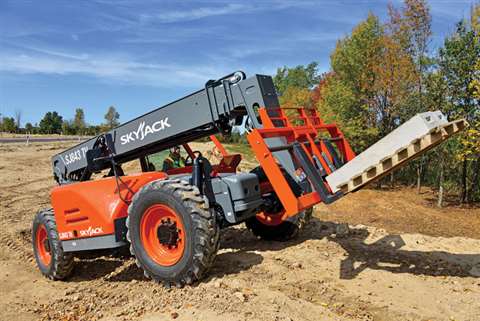 The sales increase was due to strong market share gains in scissors in Europe and Asia, said the company in its financial statement, as well as significant market share increases in booms in North America, Europe and Asia. The company added there had been solid market growth in all three regions, along with favourable changes in exchange rates.
Telehandler sales were also on the up in the quarter, according to Linamar, with increased market share in North America for this product sector too.
Operating earnings increased $1.3 million, or 2.5% over the second quarter in 2016 to $54.1 million. This was predominantly driven by the increase in volumes, the favourable changes in foreign exchange rates. They were partially offset by a sizeable loss on the foreign exchange revaluation of the operating balances in the second quarter in comparison to a modest gain in the same period in 2016, said the company. Changes in product mix, and launching products, along with increased management and sales costs to support growth, also impacted earnings.
For the six months, ending 30 June, operating earnings were up from $80.8 million in 2016, to $99.9 million this year.
"We have had another solid quarter at Linamar with strong results in both segments," said Linamar CEO Linda Hasenfratz." Powertrain/Driveline [segment] continues to perform at very strong margins despite soft core markets, evidence of our market share growth stepping in to drive results, and our Industrial segment continues to power along taking market share and driving well above industry growth levels.
"Most notable of course in the quarter is a sizeable e-axle program win for electric vehicles solidly establishing Linamar content potential in this key segment."
Linamar group sales increases 6.6% over the second quarter of 2016 to reach $1.77 billion, while operating earnings, before the foreign exchange impacts, increased 7% to reach $222.9 million.