Skyjack debuts 63-foot articulating boom at The Rental Show
By Lindsey Anderson07 February 2012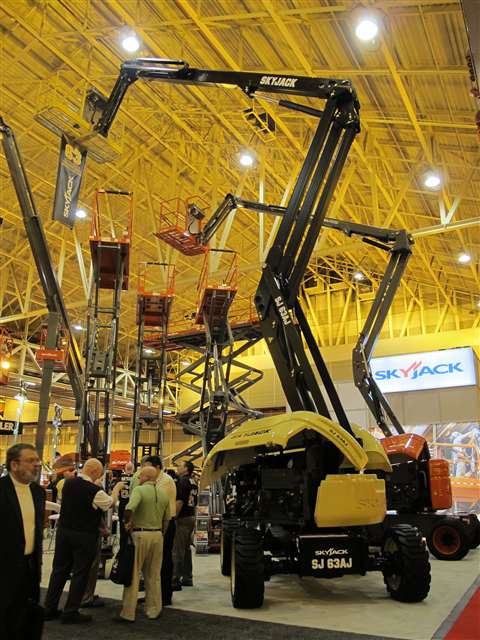 Skyjack debuted its new prototype 63-foot articulating boom at The Rental Show, Feb. 5-8 in New Orleans. The SJ 63AJ has an expected platform height of 63 feet and horizontal reach of 40 feet, "the hottest spec for this type of machine," Paul Kreutzwiser, Skyjack's senior product marketing manager, told Access, Lift & Handlers at the show. The first models will go into production at the end of the year and Skyjack expects to ship the first units in the first quarter of 2013.
The SJ 63AJ also features an open-center knuckle design that allows the articulating boom geometry while "maintinaing a low overall height." When stowed, the unit features a total height of 100 inches. The design also allows the boom a full working envelope 8 feet below ground level.
The unit weighs about 21,000 pounds, allowing two to be towed on a typical flatbed trailer.
The SJ 63AJ features commonalities across Skyjack's current boom models and is powered by either a GM Vortec 3.0L dual fuel or alternate Deutz Diesel engine. It also shares common a powertrain, hydraulic and electrical components as other Skyjack models.
The unit utilizes Skyjack's well-known analog control system with the company's standard color-coded and numbered wiring system.
It can be used in both industrial applications as well as rough-terrain applications. For more on this unit, see the March/April 2011 issue of Access, Lift & Handlers.