Skyjack debuts updated tech, booms and scissors
By Lindsey Anderson11 February 2020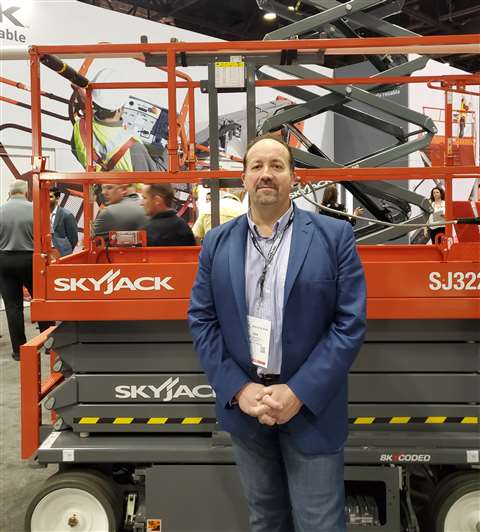 Skyjack has unveiled its next generation of DC scissor lifts which feature updated control boxes, Skycoded control systems, increased data, e-lowering, pothole protection updates and diagnostic displays.
Product Manager Kristopher Schmidt addressed rumors surrounding load sense calibration requirements stating, "Calibration is only needed if the machine has undergone significant maintenance."
The company also announced changes coming to its boom lineup.
Outside of the standard foam-filled tires and Secondary Guarding Electrical (SGE) as standard, using the success of its SJ85 AJ as a baseline, most of Skyjack's 40 and 60ft booms now feature a dual capacity rating.
Capacities for these two classes now range from 660-1,000 lbs. and in addition to overall platform capacity, the majority of these machines will also see increased personnel ratings.
The nomenclature for these machines will feature a "+" to identify the increased machine capacity, differentiating the new machines from their previous counterparts.
Adding dual capacities to the majority of booms was largely modeled after the success of the SJ85 AJ, Skyjack said. Product Manager Corey Connolly addressed that there has been some hesitation towards load sensing in the North American market, but Skyjack has more than 100 customers who've equipped their fleets with the SJ85 AJ since its launch and no reported issues on that system to date.
Through the support and collaborative partnership with its customers, Skyjack was able to launch a data science study analyzing how equipment is used, and how behavior surrounding that can be improved.
Skyjack therefore developed a Battery Management System (BMS) to find the pattern between how battery packs are treated in the field and how often rental companies have to replace batteries. Product Manager David Swan stated that it is a critical missing piece to increasing rental companies' overall ROI.
"The type of the battery isn't the only thing limiting its lifespan; it's the lack of insight to how that battery is treated that leads to premature battery failure and an inflated cost of ownership," Swan said.
ELEVATE BMS is integrated within ELEVATE and identified that batteries are currently sitting at an average battery life somewhere between 1.5 and 2.5 years. Its key goal is to help drive the battery health of a rental company's fleet towards a 4-year battery life.
Skyjack also announced ELEVATE Live, an operator-facing digital product that provides access to data without the need for an app. The technology uses QR codes that operators can scan with their smart phones to relay machine data.
ELEVATE Live is shipping on all new Skyjack equipment regardless of whether or not there's ELEVATE telematics installed. If a machine has ELEVATE telematics installed, the operator will see the machine's state of health including a simple percentage of battery life, last charge date, and recommended charging action. On a combustion machine engine faults and daily usage metrics are displayed.
If a machine doesn't have ELEVATE telematics installed, the operator still has access to familiarization material, operator manuals, and ELEVATE ON visual pre-check walkthroughs. It's all in an effort to help rental companies and operators better meet their ANSI A92.24 training requirements.
For more on Skyjack's releases, see the April issue of ALH.