Skyjack donates booms to local Rotary Club
By Lindsey Anderson10 February 2016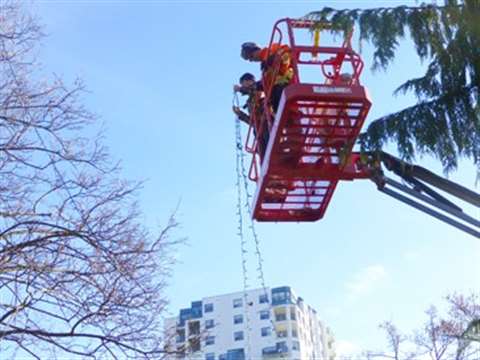 Skyjack partnered with the Rotary Club of Guelph, Ontario, Canada for the 11th consecutive year this holiday season to light up Riverside Park during the club's Sparkles in the Park event, where Skyjack donated the use of an SJ66 T telescopic boom lift and an SJ63 AJ articulating boom lift to help deck the trees. Skyjack also sponsored the park's New Year's Eve fireworks display that concluded the park festivities.
Currently in its 17th year, Sparkles in the Park is Rotary Club of Guelph's annual fundraising event, and is estimated to have raised around $20,000 this year to support programs. Sparkles in the Park raises funds each year through in-kind sponsorships, such as Skyjack's donation of boom lifts and financial support of CDN $5,000 through their sponsorship of the New Year's Eve fireworks display, as well as donations from people walking through the park.
Skyjack partnered with Rotary Club of Guelph as part of the company's 30 FOR 30 PARTNERS campaign, which celebrates the company's 30th anniversary in business. Skyjack has supported Sparkles in the Park since 2004.
A decade of support
"Skyjack has assisted Sparkles in the Park for more than 10 years, and we are happy to continue helping to make the decoration process simple and easy," said Malcolm Early, vice president of marketing, Skyjack.
Bedazzling Riverside Park took about two weeks. Volunteers helped string lights along the smaller trees and bushes, while the SJ66 T and SJ63 AJ were used to help decorate the tall fir trees that line the park.
"It would be impossible to complete the park decorations without the help of Skyjack," said Jane Armstrong, chair of Sparkles in the Park. "The height that the Skyjack machines have the ability to reach greatly improves the decorating process of the many fir trees throughout the park. Sparkles in the Park's display simply could not be completed without Skyjack's generous and dedicated support."