Skyjack expands European management team
By Lindsey Anderson29 April 2019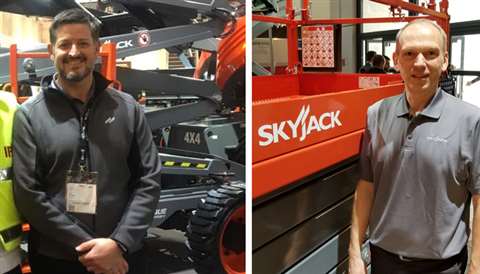 Skyjack has added new leadership roles within its European team. Jim Waldron has joined as product safety manager and Carsten Sacher has been appointed as sales director, Northern Europe.
"Jim and Carsten have already hit the ground running and are off to a great start with our Skyjack team, and our customers," said Charlie Patterson, vice president of international operations at Skyjack. "Carsten brings great insight from over a decade of working within the access industry and Jim's background with aerospace safety, predominantly with the UK Ministry of Defence, will be a great asset for Skyjack."
The addition of Sacher as sales director, Northern Europe will strengthen and foster new relationships within that region, the company said.
"My management experience has historically been on the leasing side for AWPs so, knowing what I would look for in my previous position, I'm excited to work with Skyjack to bring greater value to our customers," Sacher said.
Waldron has worked in a wide range of disciplines surrounding safety including design, development and certification. With a master's in engineering and experience with the UK Ministry of Defence, he is accustomed to looking at projects from a safety standpoint from concept to completion.
"Our whole team is excited to have a colleague in Europe whose sole focus is on product safety," Patterson explained. "Waldron's background provides us with a different perspective, and he's been working hand-in-hand with our North American product safety team to help further develop Skyjack's safety initiatives."