Skyjack gets to work at Eurotunnel
By Sarah McCay01 October 2014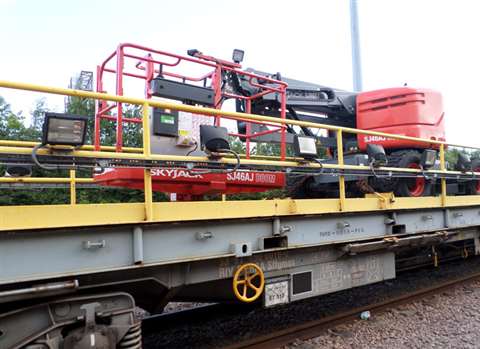 Four Skyjack lifts are currently in use assisting maintenance and repair work for Eurotunnel. The work includes operations in the tunnel, on the terminal and in the train workshop.
An SJ46 AJ articulating boom is being used in the tunnel to assist with installation and maintenance of lighting, ventilation devices and the overhead catenary system. The SJ46 AJ is equipped with Skyjack's Skyriser, which enables the riser and main pivot point connecting the fly boom to the riser to travel in a straight vertical line.
Two SJ16 self-propelled vertical mast lifts are being used for maintenance tasks in the tunnel When working on raised sections of track, the SJ16's compact dimensions allow the base to travel beneath the Eurotunnel Shuttle, while the platform can enter or travel between carriages above. When the Eurotunnel Shuttle is on ground-level track, the SJ16's working height allows it to reach over the train carriage to access the roof.
Skyjack's SJ6826 RT compact rough-terrain scissor lift is being used on the 10 railway platforms at the Eurotunnel terminal in Folkestone, UK. The scissor lift's small dimensions mean it can also fit through toll booths at the terminal.