Skyjack joins the Premier League
By Euan Youdale04 October 2016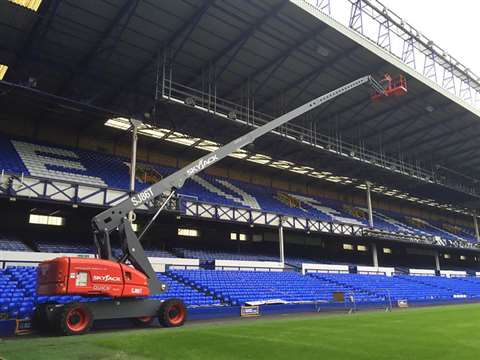 A fleet of Skyjack scissor lifts and booms have been helping operators carry out repairs and general maintenance at some of the UK's top football clubs – Everton and Liverpool in the English Premier League, and Glasgow Rangers in the Scottish Professional Football League
Quick Reach, which has three depots around the UK, has supplied a number of Skyjack's SJ86 T telescopic booms and SJ9250 RT rough terrain scissor lifts to rivals Everton FC and Liverpool FC, both of which are located in the North West of England, and Scottish club, Glasgow Rangers FC.
The fleet of Skyjack lifts were used for several months during the summer – the UK's off-season in football – to change the lights, banners and branding materials, check the rigging, and carry out repairs and general maintenance to the rafters and roof at each stadium. This is the second summer the company has supplied Skyjack machines to football clubs in the UK.
The SJ86 T is the largest of Skyjack's telescopic booms. It has a working height of 92.5 ft (28.21 m), a horizontal reach of 77 ft (23.42 m), and a below ground reach of 10 ft (3.05 m). The SJ9250 RT is also the largest model in Skyjack's rough terrain scissor lift range. It has a raised platform height of 50 ft (15.24 m), a working height of 56 ft (17.07 m), and a platform width of 74" (1.88 m).
"Sites such as sports' stadiums have all sorts of work and access requirements," says Early. "At football grounds, it can be difficult to carry out work without damaging the pitch, but with Skyjack's telescopic boom, that's not a problem as it has an extensive reach," said Malcolm Early, Skyjack vice president, marketing.
In operation since 2014, Quick Reach is run by Dave Barton and his brother, John Barton. The company has a fleet of several hundred mobile elevating work platforms, the majority of which are Skyjack machines, according to Skyjack.