Skyjack signs up with Fimatec in Brazil
By Euan Youdale20 April 2016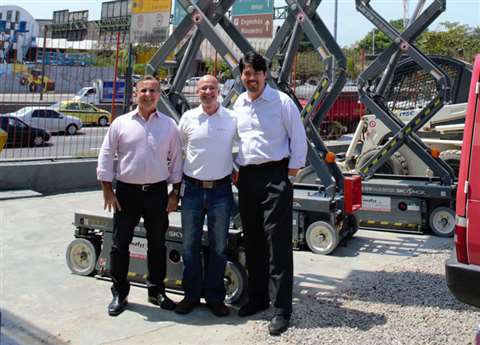 Skyjack has partnered with Fimatec Equipment to distribute its products in Brazil.
Initially a forklift specialist, rental company Fimatec, based in Rio de Janeiro, expanded its portfolio in recent years to accommodate new customer demands. And in early 2013, the company acquired its first Skyjack scissor lifts and has since added dozens more to its fleet.
Despite a recent economic slowdown, Skjack said the country still tops the list for international investments in infrastructure, according to industry reports.
"Skyjack came to Brazil at a time of great opportunity and expansion," said Baldomero Simoes Abreu, a director at Fimatec. "The region is seeing an expansion in the professionalisation of the construction sector and new safety laws designed to protect workers operating above ground level.
Mr Abreu added, "Skyjack has also played an important role in educating the market on the advantages and benefits of using AWPs in countless applications, as well as increasing awareness of worker's safety,"
Hélio Yomura Jr., a sales manager at Fimatec, explained its primary AWP customers are typically large industrial companies with vast product inventories that demand machines that are easy to maintain and have close to zero downtime. According to the manufacturer it also offers next-day parts shipping, with a strategically located parts centre in São Paulo state.
"One of Skyjack's biggest strengths is listening to the needs of the Latin America market with acute attention, offering new models and features based entirely on customer feedback," added Rafael Bazzarella, Skyjack's sales manager and senior IPAF instructor in Latin America.